Audiobooks have been on the rise, pretty much so for more than a year now. Audiobooks are a fantastic means to satiate your literary cravings while keeping your hands and eyes free to get on with work or chores. Many people like to listen during travelling or daily commute, exercising or even while trying to sleep. Fiction, Drama, Sketches, Memoir etc. The platform has everything to pick and choose from.
Hence to nudge you in a good direction, TSA has brought you a curated list of 7 recommended audiobooks on Audible.
Last Tang Standing
By: Lauren Ho
Narration by: Catherine Ho
Length: 12 hours and 38 minutes
Andrea Tang has a top job as an advocate, she lives in a posh neighbourhood and has the perfect boyfriend. She has done all that a good Chinese daughter should've, but then things go bizarre at work, she finds herself in deep debt and suddenly becomes the last single person in her family. Que meddling and match-making from everyone around her.
Why I'm No Longer Talking to White People About Race
By: Reni Eddo-Lodge
Narration by: Reni Eddo-Lodge
Length: 5 hours and 53 minutes
Reni Eddo-Lodge's best-selling and critically acclaimed book began strangely as a viral blog post concerning how discourses of race and racism are often shut down by those unscathed by it. Why I'm No Longer Talking to White People About Race sheds light on what it is to be a person of colour in England and delves into issues around white privilege, black history, institutional racism and more. A highly recommended and insightful listen.
I Am Not Your Baby Mother
By: Candice Brathwaite
Narration by: Candice Brathwaite
Length: 5 hours and 40 minutes
Candice Brathwaite commenced blogging about motherhood after she became pregnant and found that the parenting forums, magazines and other training places were not diverse and accommodating. I Am Not Your Baby Mother is a handbook to life as a black mother from pregnancy through to starting school, navigating micro-aggression, unconscious bias and more at each stage.
The Other Wife
By: Claire McGowan
Narration by: Karen Cass
Length: 9 hours and 44 minutes
Pregnant and living alone with her jealous husband, Suzi becomes friends quickly with her new neighbour Nora. However, Suzi harbours a terrible secret and suspects Nora may know what it is. Meanwhile, Elle seems to have a perfect life. In reality, she's killed before and will do it again if it means keeping hold of her husband. The strangers are brought together in a shocking event which will change all of their lives forever.
What I Know for Sure
By: Oprah Winfrey
Narration by: Oprah Winfrey
Length: 3 hours and 53 minutes
Oprah Winfrey has long conveyed wisdom with readers in her O magazine column for over 14 years. Now, her reorganized essays have been assembled into this book and organized into themes such as gratitude, joy, connection and resilience. In this audiobook, Oprah Winfrey narrates her own words directly to listeners to impact nuggets of inspiration.
Normal People
By: Sally Rooney
Narration by: Aoife McMahon
Length: 7 hours and 36 minutes
The multi-awarding winning novel from Sally Rooney, Normal People has been adapted into a hit TV series for BBC Three. Released as a box-set, the show made viewers across the country crazy. This audiobook of the original novel tells the story of a new couple Connell and Marianne who grew up in the same rural Irish town. We traverse parallelly along with their relationship through university into life beyond as they grapple with love, privilege and life together.
Gotta Get Theroux This: My Life and Strange Times on Television
By: Louis Theroux
Narration by: Louis Theroux
Length: 13 hours and 12 minutes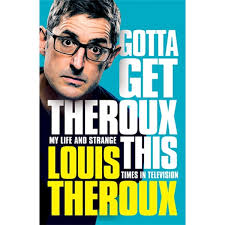 For more than two decades Louis Theroux has thrown a light on distinctive characters and diverse pockets of society. Through TV interviews and his own documentary series, the journalist has forged an unexpectedly successful career as a journalist, which he reflects on with honesty and humour in his memoir. The audiobook adaptation is narrated by Theroux himself.
Becoming
By: Michelle Obama
Narration by: Michelle Obama
Length: 19 hrs and 3 mins
From growing up on the Southside of Chicago to balancing the stresses of motherhood and work, this warm and powerful memoir by the first African American First Lady of the United States of America tells the stories that helped shape Michelle Obama's journey and allowed her to create the most open and inclusive White House in American history. She explains herself by saying this – "I'm an ordinary person who found herself on an extraordinary journey. In sharing my story, I hope to help create space for other stories and other voices, to widen the pathway for who belongs and why."
Also Read:
10 Hilarious Book Dedications That You Might Not Just Gloss Over
10 Best Book-to-Movie Adaptation That Will Stay With You Forever