Imtiaz Ali has single-handedly emancipated Hindi cinema from the over-dramatic romantic music limbo of the 1980s as a filmmaker who has crafted some memorable love flicks. Even while the music was generally pretty fantastic, the dream sequences that preceded his work were mostly tremendously unpleasant in terms of cinema. Of course, there are exceptions. Anurag Basu created wonderful romance passages that were not overly filmy. 
Conventionally romantic songs are put in considerably better cinematic sequences in Ali's body of work, which is punctuated by a few out-and-out love themes.
The characters don't waste their time dancing around gorgeous green fields, the relationship isn't ridiculous, and the music is fantastic. The song serves a purpose; it does not appear in the film solely to increase ticket sales.
We look at nine such aspects that Ali has brilliantly depicted through songs.
Music credits: T-Series and Eros Now 
Musicians: AR Rahman and Pritam 
Lyricist: Irshad Kamil
1. SEPARATION
(Dooriyan, Mohit Chauhan, Love Aaj Kal, 2009)
Through his films, Ali has addressed various themes of separation. In his films, lovers, friends, and acquaintances desire to meet each other, and he argues that urge via songs of separation. You'd think that touching a song as heartbreakingly beautiful as Dooriyan could do no good.
However, the second version of the song, which was released more than a decade later, pays homage to the first. Others, such as Aaoge Jab Tum from Jab We Met, use iconic ways to express the yearning and waiting amid separation. The sorrow of separation is also well conveyed in Laila Majnu's Ahista Ahista.
2. JOURNEY
(Safarnama, Lucky Ali, Tamasha, 2015)
I want to write about the cinematic side of this, but I'm way too charmed with the sights here, to write critically about them. Aside from my wanderlust, many of his films involve outward excursions that mirror the protagonists' inner journeys. These musical episodes depict their emergence, as well as their perception of themselves and the world around them.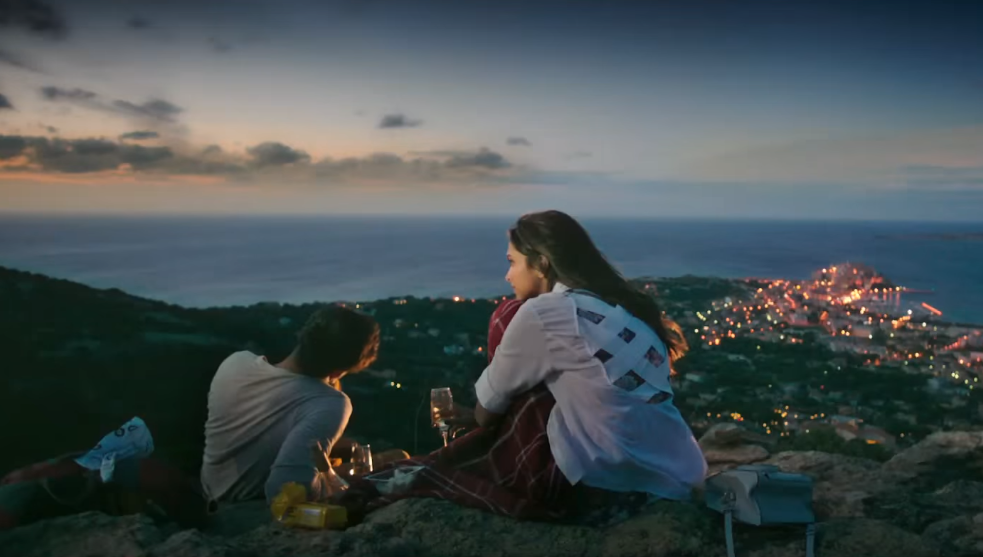 As in Tamasha's Matargashti and Safarnama, in Jab Harry Met Sejal's Hawaayein, Socha Na Tha's Zindagi, and Jab We Met's Aao Milo Chalein. Mountains and epiphanies are confronted by the characters. The film's trip coincides with the audience's inward journey, causing them to become immersed in it.
3. SELF-EXPRESSION
(Jo Bhi Main, Mohit Chauhan, Rockstar, 2011)
Sometimes faith entails trust in one's abilities. This self, too, needs expression. From Main Kya Hoon in Love Aaj Kal to Jo Bhi Main in Rockstar, to Heer Toh Badi Sad Hai in Tamasha, to Pathakha Guddi in Highway, Ali's films feature people attempting to find their identity and self-image.
Even Rockstar's Sadda Haq demands the right to self-expression with a rebellious zeal. The characters look to be at their most vulnerable, and you fall in love with their vulnerability and curiosity about the world.
4. FAITH
(Kun Faya Kun, Mohit Chauhan, Javed Ali, AR Rehman, Rockstar, 2011)
Kun Faya Kun is worthy of its category. Kun Faya Kun is a beautiful song that encourages us to see ourselves as a part of something bigger. It is filmed following the character's tentative approach to the interconnection between music and divinity. It's possible that this greater entity is God, or that it's music.
The truth is that we turn to both in times of need and a variety of other ways to find ourselves. Faith songs are also self-discovery songs. And it appears that Ali recognizes the beauty of it, as depicted by this song.
5. HEARTACHE
(Agar Tum Sath Ho and Nadaan Parindey – Alka Yagnik, Arijit Singh, and Mohit Chauhan, AR Rehman, from Tamasha 2015 and Rockstar 2011)
You'd assume there aren't any new methods to examine a concept that has been abused for plots in Hindi cinema. All of our top actors' careers are built on their portrayals of heartbreak in films. Despite this, Agar Tum Sath Ho created an entirely new technique to display it on screen. It also added an unusual animosity, an unexpected addendum to a song about lovers – but one seemed to have given up on the other.
Is it so important whether we're together or not? This aspect of being a victim of callous circumstances is revisited in Nadaan Parindey, a song written and arranged with path-breaking brilliance. I couldn't decide between these two, so you'll get both.
6. AFFECTION
(Sooha Saaha, Zeb Bangash and Alia Bhatt, Highway, 2014)
Sooha Saaha has a distinct position in the cinematic narrative as one of the few lullabies to have come out of Hindi Cinema in the previous few years. You can tell the song is hinting at a sadness buried deep within the character after only a few verses — heartache that simple words can neither address nor fix.
Perhaps a lullaby will help. Like Ranbir Kapoor's characters in Rockstar and Tamasha, Randeep Hooda's character in Highway is tormented by the world. They claim that I will not be able to bear this anguish for the rest of my life. The lullaby suggests that you might find serenity in a dream.
7. MISCHIEF
(Wat Wat Wat, Shaswat Singh, Arijit Singh, AR Rahman, Tamasha, 2015)
It's a difficult thing to show on TV without being too filmy, yet Ali does it so well that it appears to come naturally to him. Both Tamasha's Wat Wat Wat and Rockstar's Katiya Karun demonstrate the filmmaker's skill to weave mayhem and how this draws two people together. He blends romance, seduction, and connection into his mischief.
Even Chor Bazaari provides flashes of this mischief between two loves, which contributes to the film's atmosphere. In a different vein, Ali's most traditional romantic ballad, Aaj Din Chadheya, petitions God for the beloved's hand with a playful wholesomeness.
8. ACCEPTANCE
(Tum Ho, Mohit Chauhan, Rockstar, 2011)
Sometimes lovers do not end up together, and I feel Ali's films attempt to explore this fear uniquely compared to his contemporaries. Even though a happily ever after is rarely seen, the protagonists accept it as a part of life. Tum Se Hi, O Meri Laila, and Tum Ho are examples of this acceptance.
This acceptance leads to a mental bond with the other, such that the protagonist cannot be separated from this person in the real world. Ali makes movies out of nothing, which is a challenging genre to master. Geet is in love with someone else, Heer has married someone else, Tara is not close, and Mahabir has died, but what does togetherness have to do with proximity?
9. STORY
(Chali Kahani, Sukhwinder Singh, Haricharan, Haripriya, Tamasha, 2015)
One of the first scenes in Tamasha, where the ancient storyteller informs a very young Ved that all stories are ultimately the same, is one of the passages from Ali's cinema that has shaped my vision. All of our myths are reflections of ourselves, our angst, longing, and love. They are also the same because they represent us.
Only the features, the wrinkles on the hands, and the names change. The pain, the love, and the adventure are all the same on the inside. Perhaps this is why I can identify common themes in Imtiaz Ali's films. In any case, Chali Kahaani's primary premise – that we share a bound oneness since we are all tales – continues to fascinate me.
Also Read: Happy Birthday To India's Most Loved Comedian: Zakir Khan

Happy Birthday, Randeep Hooda– 5 Underrated Roles That Did Not Receive The Limelight They Deserved