Johnny Lawrence is a fictional character who appears in Robert Mark Kamen's film series The Karate Kid. He is the principal villain and Daniel LaRusso's opponent in The Karate Kid, and he is played by William Zabka. He makes cameo appearances in both sequels and is the main character in the Netflix series Cobra Kai. In this article, we will discuss some of the best Johnny Lawerence quotes.
Johnny, the disturbed affluent child from the Valley began a thirty-year feud with new kid Daniel LaRusso. As the best student at the Cobra Kai school, his ruthless martial arts training made him a fearsome opponent. Johnny eventually competed in the All Valley Karate Tournament in 1981 but lost in the quarterfinals to Darryl Vidal.
In 1982 and 1983, Johnny won the event after defeating his friend Tommy in the finals. Many of us were inspired by the role of Johnny Lawrence. To commemorate him, we have compiled a list of the 20 best Johnny Lawrence quotes below.
Take a look at the list of the 20 best Johnny Lawrence quotes:
Wanna score those hot babes? Try karate! Kicks get chicks
We do not allow weakness in this dojo. So, you can leave your asthma and your peanut allergies and all that over-made-up bullshit outside
Do you want my advice? Stop being so annoying. Maybe you'll stop getting your ass kicked
"They strike first? We pre-strike!"
Got something for you. All-Valley Tournament application. You fill that out and send it in, so they'll know where to claim the body
I'm not just gonna teach you how to conquer your fears. I'm gonna teach you how to awaken the snake within you. And once you do that, you'll be the one who's feared
The human response to danger is fight or flight, but an eagle's response is fight and flight
"An enemy deserves no mercy!"
"The best defense is more offense"
"You mean don't be there? The guy teaches you centuries of his ancient family karate, you can't help him with English?"
"I may not always win, but I never back out of a fight."
"I Wasn't Taught The Difference Between Mercy And Honor And I Paid For It.
"If I'm extra hard on you, it's because you have the ability to be better than me."
"Cobra Kai is about strength – if you're not strong on the inside, then you can't be strong on the outside"
"God, just looking at you makes me feel like a virgin."
"When an eagle's hungry, it doesn't hesitate. If you want to be an eagle, you first have to learn how to fly."
"There are four different animals on top. That's a man's pizza"
"Manliness is next to Godliness"
"An Eagle embraces the pain. All your life, the world has been trying to make you less of a man. Light beer? Veggie burgers? Automatic transmissions? Might as well let another dude bang your chick."
"Obscenities? What kind of bullsh!t is that?"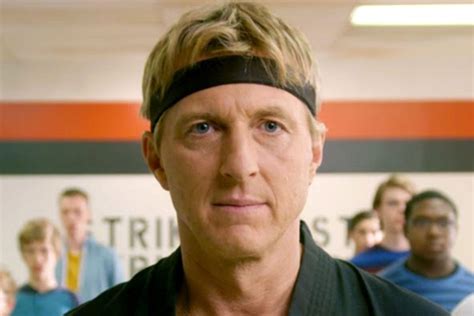 Due to his dismissal of Miguel Diaz's and other characters' medical concerns, as well as plainly sexist remarks, Johnny is one of the more controversial characters in the franchise. But we all can say that we love Johnny Lawrence from all of our hearts. Some of the best Johnny Lawrence quotes are listed above. If you have any more suggestions regarding it, feel free to leave your thoughts in the comment section below.
Also check out: 15 Best Quotes Of Millie Bobby Brown