SRK… ShahRukh Khan… Where do we even get started? The man knows all the ways to win the hearts of his audience. If anything, he's truly ruled over the hearts of millions; no wonder there are queues of hundreds and thousands for just one glimpse.
The man is known as the Badshah, and he truly owns the crown. He has proved his mettle in acting through his uncountable hit and super hit films. 
From his charming smile to his chivalrous persona to his exemplary oration, he is the jack of all trades and master of most. He has played such a wide range of characters that it is hard to keep track of.
So today when he turns 56, here's us looking at the 90s SRK that we all grew up loving, and not to mention, miss a lot.
Disclaimer: This article can give you some major nostalgia; readers' discretion is required. Thank you.
1. Deewana (1992)
Don't we all call ourselves SRK's 'Deewana'? Well, then I guess he chose the perfect film for his big Bollywood break that not only established him as a name that would do something phenomenal in the years to come but also got him his favorite black lady, the Best Debut Filmfare Award.
2. Baazigar (1993)
Right after the big break, SRK went on to play the cold-blooded killer with a vendetta with such charms that he won over the audience, yet again.
This was the first time that SRK was paired against Kajol, which later on became Bollywood's most classic pairing of all times.
3. Darr (1993)
Would you really believe that this epitome of love, romance, and all things beautiful played an obsessive lover that goes on to stalk his love interest to the point that he forces himself onto her?
And then they ask what the range of performance is? This right here, ladies and gentlemen, is the range of performance.
4. Karan Arjun (1995)
The first time that we see the two of the biggest names of Bollywood, Shahrukh Khan, and Salman Khan together is when they play brothers.
That's some comradery we're talking about. Is it just me, or is 'Yeh Bandhan' really playing in the background?
5. DDLJ (1995)
Okay, so I really need to say anything about this movie that has completed 26 years and still remains the best in the genre?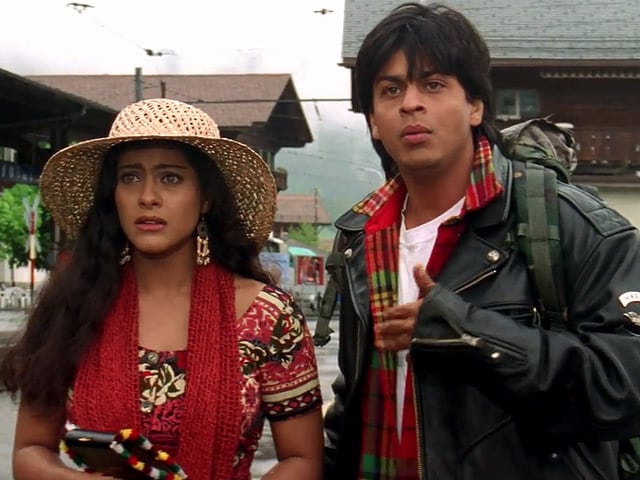 The only description possible of this movie is that every other movie after this has an element or a nuance of it, to date. 
*Tujhe Dekha Toh yeh jaana sanamm…*
The yellow mustard field, the man standing there with a Mandolin and that smile…
6. Pardes (1997)
Yet another very, very lovable character of SRK that needs no mention. The movie had iconic songs like 'Do Dil Mil Rahe Hai' and 'Yeh Dil Deewana'.
If anything, we're all too lost watching the man play such lovable characters to even form a coherent sentence.
7. Yes Boss (1997)
SRK played many versions of Raj and Rahul, which became his trademark style. This movie featured a funny, humorous, jolly version of Rahul, who is equally lovable.
And of course, we love the pair of SRK and Juhi Chawla. 
*humming the tune of 'Main Koi Aisa Geet Gaoon'*
8. Dil To Pagal Hai (1997)
This movie is the precursor of all love triangle movies that have been made lately in Bollywood. It featured the ultimate trio of SRK, Madhuri Dixit, and Karishma Kapoor.
The movie was loved for its performances, dances and of course the songs.
9. Dil Se (1998)
This is one of those movies that needs no justification for the love it relieves. It has been made so crisply that there is nothing not to love.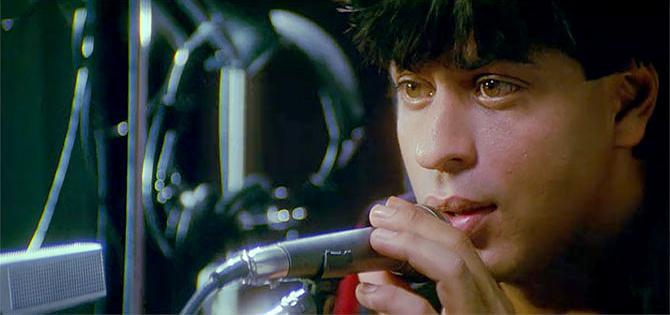 From the mysterious Meghna to the lovable Amar, the love story is everything amazing. And the heart of the movie is the songs. Who doesn't remember this iconic album?
*BRB. we're having a session of Dil Se album*
10. Kuch Kuch Hota Hai (1999)
Yes, exactly. Something unknown happens to all our hearts when we recall the first time that we saw this movie. Didn't we just fall in love right away? This movie is magic. Period. 
11. Baadshah (1999)
The movie that earned SRK the title of 'Badshah'. This remains one of his most loved action comedy movies.
There is a certain attachment we feel when we recall this one; it feels like the movie still holds a piece of our childhood, a piece of our innocence like we hold this movie so dearly in our hearts.
Today, at his birthday, here's a public appeal: Please get the 90s SRK back. We need such gems and most importantly bring him back on the screens. We miss seeing him there.
Also Read: Halloween Special: 10 Spooky And Haunted Games That Will Make You Scream