Do you know that Bruno Mars started impersonating Michael Jackson and Elvis Presley when he was three years old? At the age of four, Bruno Mars was famous all over Hawaii for his impersonation of Presley. 
He was named the "Little Elvis" by a famous Hawaiian tabloid.
This was the start of his music career, at the mere age of three. From an Elvis Presley impersonator to becoming one of the most popular singers of the contemporary world, Bruno Mars has come a long way.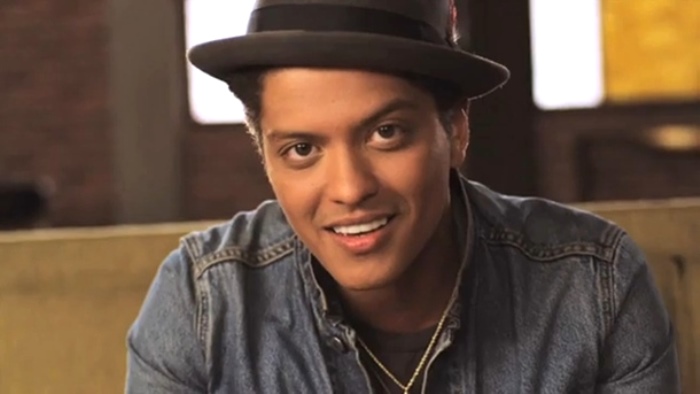 His songs range from pop to R&B, funk, hip hop, disco and rock. 
Here are the top 10 songs by Bruno Mars-
1. Count on Me 
Find out what we're made of
When we are called to help our friends in need
Even those who do not call themselves a fan of Mars must have heard this song! Count on Me beautifully expresses the affection of a person for their friends.
It is a blend of folk and tropical and gives a refreshing yet nostalgic feel of being with friends. 
2. Uptown Funk 
Come on, dance, jump on it
If you sexy then flaunt it
If you freaky then own it
Originally a song by record producer Mark Ronson, it featured the vocals of Bruno Mars. However, Uptown Funk is probably one of the most popular songs of the artist primarily because of its upbeat music and funk-pop style.
This is the song you will definitely choose for an energetic party or a drive with your pals.
3. Just The Way You Are 
When I see your face
There's not a thing that I would change
'Cause you're amazing
Just the way you are
The same vibe you get from listening to Little Things and Perfect are devoted in Just The Way You Are. It perfectly embodies the feelings of a dedicated partner who details the grace of his lover that goes far beyond the superficial glimpses.   
Bruno Mars, in his magical vocals, adds beauty to this wholesome song. Not only the lyrics, but the music video is impressive as well.
4. Talking To The Moon 
At night, when the stars light up my room
I sit by myself Talking to the moon
Yes, this song, before becoming the favourite music of reel makers, was actually sung by Bruno Mars. It had much more beauty to it than the remixed version, and the lyrics are way more deeper and meaningful than expressed in these three lines. 
Apart from making all the up-beat and lively pop songs, Bruno Mars never fails to amaze when it comes to wholesome songs!
5. 24K Magic 
Throw your hands up in the sky
Let's set this party off right
A perfect anthem for any party to liven, Bruno Mars successfully added the contemporary pop style in 24K Magic and yet gave a unique song.
The song is an open testimony of Bruno Mars' capability, and because of the same, it took home a Grammy Award in 2018.
6. The Lazy Song 
Today I don't feel like doing anything
I just wanna lay in my bed
Just as the title says, The Lazy Song is for the days when you don't feel like doing anything. Once in a while, all of us go through that phase where everything suddenly seems boring. Bruno Mars himself confessed that the song was an outcome of an unproductive song session.
At one point, after hours of thinking of what to make, Mars said, "Today I don't feel like doing anything at all." And Voila! The Lazy Song was born. 
Filled with humorous lyrics and a funnier video, The Lazy Song flawlessly described our situation in the quarantine as well!
7. Locked Out Of Heaven
Cause you make me feel like I've been locked out of heaven
Another funk song, Locked Out of Heaven, was an instant hit, and when Bruno Mars sang it during one of his shows, his devotees went crazy because, honestly, it sounds even better with live vocals.
The song is about the divine emotions a meaningful relationship with positive intimacy can accompany. 
8. Grenade
Yes, I would die for ya, baby
But you won't do the same
As the lyrics portray, the song is a testimony of one-sided or unrequited love where one partner is ready to do anything for the other, who unfortunately does not reciprocate the same feelings.
Bruno said that the song is a 'heartbreaking heartbreak song' where the man is unable to identify where it all went wrong.
9. Treasure 
You know you can make my wish come true
If you let me treasure you
Bruno Mars can capture any woman's attention with his captivating lyrics. Expressing that the girl will always be the centre of attention of the singer, Bruno yet again shows the profound feelings of a person who is basically drunk in love.
10. That's What I Like 
Strawberry champagne on ice
Lucky for you, that's what I like, that's what I like
No big deal, but That's What I Like bagged not one or two but THREE Grammy Awards. Combining musical elements like Hip-Hop, Soul and Swing, That's What I Like became a huge hit after its release.