The keyboard is one of the most used elements of your computer. That means acquiring a better one can make a bigger difference right away than upgrading your CPU.
The keyboard that a gamer chooses is much more important. You'll want something that complements your innate gaming abilities while still being comfy for long gaming sessions and typing sessions.
It wouldn't hurt to have some appealing design options to go with your equipment.
Check out the top gaming keyboards we've tested below, whether you're slogging through an FPS or just want a better typing experience in general. They provide an excellent balance of quickness, functionality, and style.
1. Patriot Viper V765
SPECIFICATIONS
Switches: Kailh Box White (clicky)
Backlight: Per-key RGB
Type: Full-size
Size: 18.4 x 6.4 x 1.1 inches (46.6 x 20.3 x 4cm)
Weight: 2.5 pounds (1,134g)
REASONS TO BUY
Fantastic white switches

Great price

Sleek aluminum design
REASONS TO AVOID
Mediocre software

Feet are a little short

Hard palm rest
Patriot Memory is better renowned for its RAM and storage than its peripherals. Yet, the Viper V765 has a key feel like no other in an appealing, cheap design, especially considering the feature set.
Even though it's been a while, the Patriot Viper V765 is still the greatest gaming keyboard for most people. It's one of the few keyboards using Kailh Box White switches, which, because of their somewhat reduced travel, actuate faster than standard Blue or Green switches (3.6mm versus 4mm).
The keys are the most responsive we've tested, and they even have a nicer click sound than other keyboards.
The Viper V765 is worth buying just for the switches, but it's also a great-looking peripheral. The full-size keyboard has an aluminum top surface with tapered corners that give it a metallic spaceship appearance.
The bright RGB keys allow you to design your color patterns as well as dozens of different light combinations. To use most of the RGB effects, you don't even need to install the software.
You also get media keys, which are usually reserved for more expensive keyboards, as well as IP56 dust and water resistance.

2. Cooler Master CK552
SPECIFICATIONS
Switches: Gateron Red, Blue, or Brown
Backlight: Per-key RGB
Type: Full-size
Size: 18.1 x 5.3 x 1.6 inches (46 x 13.5 x 4.1mm)
Weight: 1.9 pounds (861.8g)
REASONS TO BUY
Beautiful RGB backlighting

Solid aluminum top plate

Variety of available switch types
REASONS TO AVOID
Red switches can be easy to miss-press
Some of the best gaming keyboards are quite expensive. The Cooler Master CK552 is for you if you don't want to break the bank for a keyboard.
You receive a full-sized keyboard with an aluminum top plate, typically reserved for more expensive keyboards, and indicates that it will last for a long time. The CK552 also has a variety of switch options.
You can get a nice mechanical experience using Gateron-brand linear, clicky, or tactile switches, even if they aren't as stable or quality as other mechanical switch manufacturers like Cherry MX.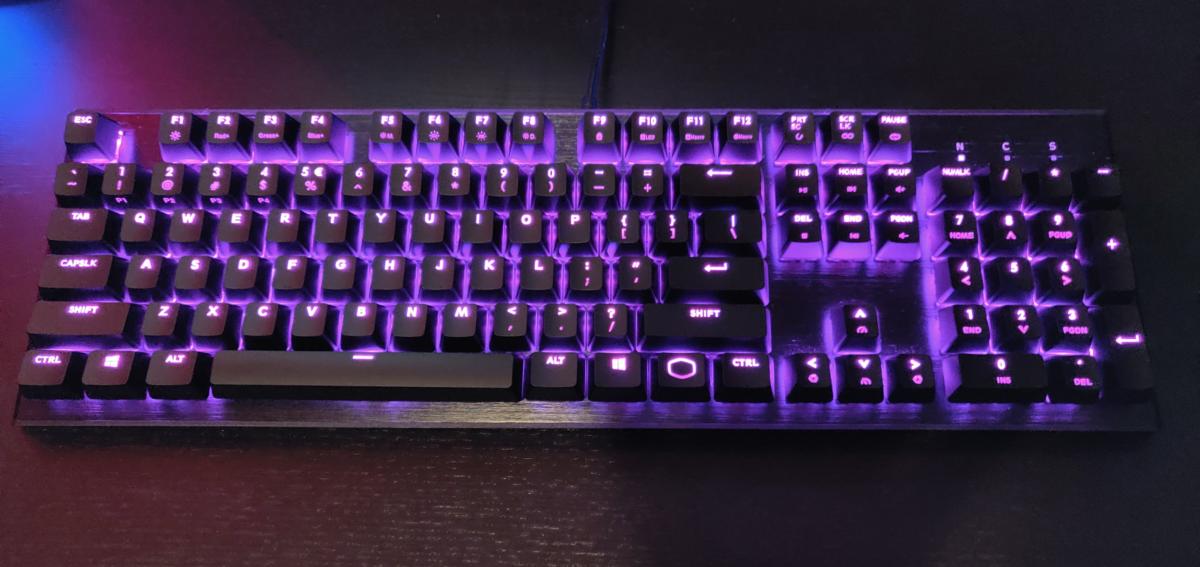 The Gateron Red switches we tried occasionally caused mis-presses in gaming, which is also an issue with typing. However, the CK552 includes up to four profiles of onboard memory, on-the-fly macro recording, and per-key RGB to compensate for any gaming shortcomings.
The CK552 from Cooler Master may also be used with the Cooler Master Portal software, albeit it isn't as sophisticated as competing for peripheral software.

3. Corsair K70 RGB TKL
SPECIFICATIONS
Switches: Cherry MX Red, Silent Red, or Speed Silver
Backlight: Per-key RGB
Type: Tenkeyless
Size: 14.2 x 6.5 x 1.9 inches (36.1 x 16.5 x 4.8cm)
Weight: 2.1 pounds (952.5g)
REASONS TO BUY
Space-saving, durable build

Premium keycaps
REASONS TO AVOID
Close keys can require getting used to

Expensive
Overall, the Corsair K70 RGB TKL is pricey, but it provides a lot for the money. Its TKL design saves space while remaining sturdy and damage-resistant.
Corsair also includes dedicated media keys and the ability to modify RGB effects without downloading any software (but the iCue app is required for deeper customization).
On the K70 TKL, we had a lot of fun typing and gaming, thanks to the double-shot PBT keycaps. They not only fought smudges but also sweat, ensuring that we never missed a beat in the game.
You'll also get a set of additional (less expensive ABS) keycaps for added style and enjoyment. When it came to typing, however, an adjustment time was required.
The K70 RGB TKL, interestingly, has its own multi-threaded SoC, allowing it to poll at 8000 Hz, which is 8 times faster than the other keyboards on this list.
We didn't see a change even with an AMD Ryzen 5950X CPU. The TKL's abundance of onboard profiles (up to 50), advanced tournament-style capabilities, and quickness was even more useful.

4. Razer BlackWidow V3 Pro
SPECIFICATIONS
Switches: Razer Green (clicky) or Razer Yellow (linear)
Backlight: Per-key RGB
Type: Full-size
Size: 17.7 x 9.8 x 1.7 inches (36.8 x 15 x 2.2cm)
Weight: 3.1 pounds (1,423g)
REASONS TO BUY
Doubleshot keycaps feel premium, resist smudges

Premium wrist rest
REASONS TO AVOID
Finicky when the battery is very low

No macro keys
The Razer Black Widow V3 Pro is the best wireless gaming keyboard for you if you want the same experience as a full-sized mechanical gaming keyboard but without the cord.
While other wireless keyboards are designed for portability, the BlackWidow V3 Pro has all of the size, bulk, and functionality of a full-sized mechanical keyboard, including a tactile and premium volume dial, extra media keys, and aluminum top plate, and Doubleshot ABS plastic keycaps.
This gaming keyboard from Razer is loaded with features including four profiles of onboard memory and bright per-key RGB lighting. RGB, on the other hand, does not adhere to profiles; therefore, skilled RGB fans will have to rely on software to match RGB to profiles, including bespoke effects.
We encountered no problems with Razer's dongle connection throughout our testing, and you can pair the keyboard with up to three computers over Bluetooth.
Our BlackWidow V3 Pro test unit averaged roughly 14 hours with RGB at maximum settings and no dimming effects; however, you can achieve up to 25 hours with RGB utilizing battery-saving options.
By the time the battery life reaches 3%, you'll want to plug it in since power-saving settings kick in, making the keyboard act a little goofy.
The Logitech G915 Lightspeed is a wonderful and reliable full-sized wireless gaming keyboard with low-profile switches that some people will appreciate for gaming and others will enjoy for travel.
The BlackWidow V3 Pro, on the other hand, is a premium option for a more traditional mechanical gaming keyboard experience.

5. HyperX Alloy Origins
SPECIFICATIONS
Switches: HyperX Red (linear)
Backlight: Per-key RGB
Type: Full-size 
Size: 17.4 x 5.2 x 1.4 inches (44.3 x 13.3 x 3.6cm)
Weight: 2.4 pounds (1,075g)
REASONS TO BUY
Attractive, compact design

Excellent RGB lighting

Three-level rear height adjustment
REASONS TO AVOID
No dedicated media controls or macro keys

Shorter 1.8mm switch actuation (versus 2mm) feels like a gimmick

NGenuity software could be more intuitive
Because of its tiny size and high-quality construction, the HyperX Alloy Origins is the finest gaming keyboard for casual gamers who just want to play. From the keys to the frame and the brilliant RGB lighting, it has a luxurious look and feel.
If you're used to linear switches, the red switches on this keyboard will feel right at home. We also tried the clickier version with HyperX aAua switches, which can be found on Amazon and HyperX's website.
However, gaming keyboards with more amenities, such as media control buttons, a USB pass-through connector (for conveniently putting in another piece of equipment, such as your finest gaming mouse), or more advanced software, may be found for more than $100. The Alloy Origins, on the other hand, delivers on what it promises.
The tenkeyless (no Numpad) HyperX Alloy Origins Core and the 60 percent HyperX Alloy Origins 60 are two smaller, less expensive variations of this keyboard.
6. Corsair K100 RGB
SPECIFICATIONS
Switches: Corsair OPX RGB (linear) or Cherry MX Speed Silver
Backlight: Per-key RGB
Type: Full-sized 
Size: 18.5 x 6.5 x 1.5 inches (47 x 16.6 x 3.8cm)
Weight: 2.9 pounds (1,315.4g)
REASONS TO BUY
1mm-actuation optical-mechanical switches

Cushioned wrist rest and premium PBT keycaps
REASONS TO AVOID
Expensive

Some features feel gimmicky
The Corsair K100 RGB comes with more functions than most people will ever need, including ones you might not have imagined a keyboard could have.
There's a multi-threaded SoC, a polling rate of 4,000 Hz (rather than the standard 1,000 Hz), the first appearance of Corsair's proprietary optical-mechanical switches, and an RGB-clad media wheel that's as much fun to use as it is to look at.
We found the wheel to be especially useful for things like zooming in and out of Photoshop. However, it, along with some of the other features that made this keyboard so pricey, proved less useful for gaming.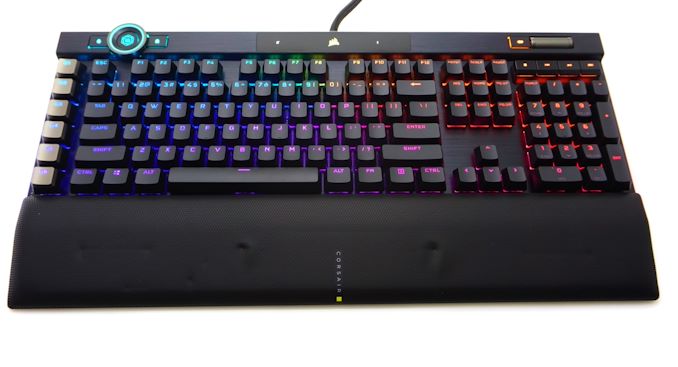 Of course, the K100 RGB is still one of the greatest gaming keyboards on the market. The optical-mechanical switches' shorter travel and activation points provided a noticeable difference. If you don't want to go with the optical-mechanical trend, Cherry's Speed Silver switches are an option.
If you're looking for a gaming-only splurge, the Corsair K95 Platinum XT, which is also on this page, is a better pick. While it is likewise pricey, it includes more gaming-specific features such as a macro key bank and support for the Elgato Stream Deck.
7. Hexgears Impulse
SPECIFICATIONS
Switches: Kailh Box White or Box Brown
Backlight: Per-key RGB
Type: Full-size
Size: 17.25 x 6 x 1.6 inches (43.8 x 15.2 x 4cm)
Weight: 2 pounds (918g)
REASONS TO BUY
Hot-swappable key switches

World-class typing experience
REASONS TO AVOID
No software

Dull light show
The Hexgears Impulse is the best gaming keyboard if typing performance is your top priority. It's far from flawless, but it's the greatest gaming keyboard if typing performance is your top priority.
Utilizing this keyboard with Kailh Box White switches gave us the finest typing experience we've ever had, outperforming even our old IBM-style keyboard and others I've used with Cherry MX Blue or Razer Green switches.
Hexgears took the risk of placing a Blue-style switch only under the spacebar, saying that the largest key (which most people press with their thumbs) should be stiffer. We initially felt that placing a different switch under just one key was a strange option, but we eventually discovered that the extra resistance was beneficial.
As a result, we preferred typing on the Impulse to the Viper V765, which features White switches under each key, including the spacebar.
The Impulse is also available with tactile Kailh Box Brown switches, and the latest version of this keyboard now includes hot-swappable capability.
That means you can easily remove the mechanical switches and experiment with whatever you want without having to use a soldering iron.

8. Razer Huntsman V2
SPECIFICATIONS
Switches: Razer Linear Optical or Clicky Optical
Backlight: Per-key RGB
Type: Full-size
Size: 17.6 x 5.5 x 1.5 inches 
Weight: 2.7 pounds (3.76 pounds with wrist rest)
REASONS TO BUY
Smooth, responsive switches

Highly programmable
REASONS TO AVOID
No macro keys to competing with similarly priced rivals

8,000 Hz polling rate is hard to notice
The Huntsman V2 Analog is Razer's most complex optical-mechanical gaming keyboard, but for most people, the Huntsman V2 is the best option.
It's pricey, but it's loaded with features, including great media keys, keys that can be programmed with up to two purposes by holding down a designated Razer HyperShift key, and four onboard profiles that can launch specified apps automatically.
Rather than using physical touch, the optical-mechanical switch works by delivering a stem through a laser beam.
The switches have become more popular due to their smooth actuation and the fact that they are expected to decay at a slower pace than traditional mechanical switches. We put the Huntsman V2 through its paces with Razer's sound-dampening 2nd Gen Optical Linear switches.
In addition, sound dampening foam is included in the keyboard, resulting in an extremely quiet experience with these smooth-traveling switches.
The clicky switches are also more suitable for gaming than other clicky switches due to their small weight (1.5mm actuation point and 45g force to actuate).
Plus, the Huntsman V2 caters to the hands with double shot PBT keycaps that both look and feel good and a plush wrist rest that's detachable. This is a premium keyboard through and through.

9. Corsair K95 RGB Platinum XT
SPECIFICATIONS
Switches: Cherry MX Blue, Brown, or Speed Silver
Backlight: Per-key RGB
Type: Full-size
Size: 18.3 x 6.7 x 1.4 inches (46.5 x 17.1 x 3.6cm)
Weight: 2.9 pounds (1,306.3g)
REASONS TO BUY
Comfortable classic design with dedicated media keys and metal volume roller

Double Shot keycaps and wrist rest feel more premium

Elgato Stream Deck support makes macro keys more versatile
REASONS TO AVOID
Cumbersome cable

Plastic clips on removable wrist rest feel like they could break

Elgato Stream Deck support means installing two pieces of software
The Corsair K95 RGB Platinum XT is a premium mechanical gaming keyboard that won't let you down if you're prepared to invest the money.
It's one of the greatest gaming keyboards we've tried, but it's also one of the most expensive, partly due to features that some may find unnecessary.
It's the latest version of Corsair's famous K95 keyboard, and it's loaded with extras like double-shot keycaps and a padded leatherette wrist rest. Elgato Stream Deck software, which can be used with the keyboard's six macro keys, is also supported for streamers.
The Cherry MX Brown (tactile and silent) and Silver Speed (quick and quiet) versions of the board are available, but we tried the Blue (tactile and clicky) version.
The switches were fantastic for everyday typing, but for gaming, we'd like the quieter or short-actuating switch options. There are no linear possibilities here, such as Cherry MX Red.
10. SteelSeries Apex Pro
SPECIFICATIONS
Switches: OmniPoint Adjustable (linear) and Gateron Red
Backlight: Per-key RGB
Type: Full-size
Size: 17.2 x 1.9 x 4.4 inches (43.7 x 4 x 13.9cm)
Weight: 2.1 pounds (970.6g)
REASONS TO BUY
– Adjustable per-key actuation points for most keys
– 5 onboard profiles with RGB and actuation settings
– Aluminum build
– USB passthrough and some cable management
REASONS TO AVOID
The questionable long-term typing experience

Expensive
The SteelSeries Apex Pro is the best RGB gaming keyboard we've ever seen, with some of the most spectacular per-key RGB lighting.
The colors pop against the dark grey frame of the keyboard, illuminating the rest of the chassis. Raised keycaps add even more to the experience. Furthermore, software and on-the-fly controls expand the options.
This keyboard also offers the unique feature of allowing you to customize the actuation point of individual keys for a really personalized experience. This is a unique trick, and it's one that the Apex Pro pulls off well.
You may also use the popular OLED screen to display a small image or GIF that you submit. The Apex Pro is not only incredibly configurable, but it also makes things easier than a hot-swappable keyboard.
Because the Apex Pro's switches have a linear feel, those who want clicky, tactile typing should look for something else. However, hammering on the aluminum frame will still produce a lot of noise. Look no further if you want a keyboard that you can easily personalize (literally).
Also Read: 5 Best Earphone under 500 INR – Buying guide + Pros & Cons