Sanjay Leela Bhansali is one of the most famous directors in the Bollywood industry. He is known for his opulence and grandeur, both in narratives and unusual set designs. His films are huge and epic in scale. Whether for reasons good or bad, whenever his films are around the corner for a release, there is quite loud and distinct chatter and coverage in the media.
The prospective audience waits with bated breath for the films to hit the cinema screens and the films' set design and costumes, and its huge budget always remains a noticeable point.
He has his unique way to illustrate their films, through huge sets, unique costumes, selection of color, choice of music, and more. On the occasion of his birthday let's deep dive into their most visually fascinating films which influenced the audience by their narratives as well as their aesthetics.
Sanjay Leela Bhansali's 4 Masterpieces –
This film has different aspects such as love, sacrifice and pain. This was the film where the beautiful journey of Sanjay Leela Bhansali's masterpieces started.
During an interview, he said at the time of Devdas his father died due to too much consumption of alcohol. The film was based on Basu Chandra's novel Devdas, starring Shahrukh Khan, Aishwarya Rai and Madhuri Dixit.
It was one of the greatest films ever made in the history of Indian cinema – not just in terms of the performance, but also for the Set designs that were built with utmost perfection and minute details.
From Paro's haveli to Chandramukhi's kotha everything was beautiful and brilliantly created. The songs, costumes and dance performances have an unusual impact on audience's minds.
According to reports, the cost of Chadramukhi's kotha that was built around an artificial lake was approximately Rs 12 crores. And 1.22 lakh pieces of stained glass were used to decorate Paro's room and the overall cost of the haveli was around Rs 3 crore. At that time  Rs 20 crores of the film's budget were spent on the sets alone. 
Goliyon Ki Rasleela: Ram Leela
Goliyon ki Rasleela: Ram Leela released in 2013, the film is based on a tragic love story of Ram and Leela, who belongs to two rival families, starring Ranveer Singh and Deepika Padukone, it is another classical of Sanjay Leela Bhansali film's vision.
The movie revolves around the love story of Ram and Leela, what problems and situations they have faced due to their families' conflicts. The film is more than a love story, From the stunning Havelis to the vibrant streets where people costumes, colour palette, everything was brilliantly shooted to portray the authentic taste and the beauty of Gujarat.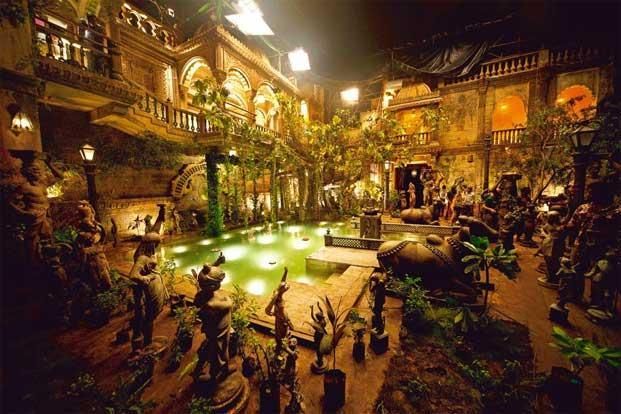 According to the report the while Deepika is dancing to the song Nagade Sang Dhol, wearing a 30 kg ghagra, the massive haveli courtyard was one of the most expensive sets created in the studios of Mumbai.
Bansali and his set designer took two to three months to make a visually appealing set. Even though Bhansali has constructed a gym on the film set for Ranveer Singh to cut down his time between location and gym.
Another masterpiece by Sanjay Leela Bhansali. it is a historical romance film, starring Deepika Padukone, Ranveer Singh and Priyanka Chopra. The films were released on 18 December 2015 and praised for Bhansai's Direction and visual appearance. 
It is also remembered for its intricate details and jaw-dropping depiction of every scene, huge sets, the scale of production, grandeur and attention to the minute details. With a budget of ₹145 crores, including marketing and advertisements, it is one of the most expensive Bollywood films.
The most discussed thing was the Aaina mahal inspired by of Mughal-E-Azam, the set was reportedly made using over 20,000 intricately designed mirrors handpicked from Jaipur and 13 chandeliers.
Shaniwar Wada that was the film's biggest set was built using 45,000 planks and hand-carved wood was used to make the walls. The whole set took 8 to 9 years to complete. More than 12 assistant set designers and 550 helpers create the set in 45 days. It was the highest-grossing film 0f 2015, it grossed over 356 crores.
Sanjay Leela Bhansali's most beautiful and influential film Padmavat is based on a historical queen Padmavati who sacrificed her life for his dignity in front of evil king Alauddin Khilji, starring Deepika Padukone, Ranveer Singh and Shahid Kapoor. 
The film faced a lot of controversies at the time of its release. The film has shot with a lot of attention and details on its sets, costumes, colour, lighting and more. While shooted the most controversial songs of Ghumar, Deepika Padukone wore 30kgs of lehenga and she did 66 twists and twirls.
According to Tanishq jewelers, around 400 kg of gold was used to make the stunning jewelry for Padmavat, over 200 craftsmen worked for more than 600days to complete the jewelry. It was an unparalleled visual treat that went on to become one of the highest-grossing Indian films of all time. 
From elaborate sets to the minute details in the costumes; everything about the film is creatively rich and huge. According to Architectural Digest, the film was supposed to be shot at Chittor Fort but due to controversy and protests, Bhansali recreated the fort in Mumbai, Maharashtra, the makers and designer of the set taking inspiration from taking old Rajasthani miniature paintings and their culture. The budget for shooting the films was around Rs 215 crore.