The printed word will always have a mystical quality to it. Even as iPads and e-readers grow more prevalent, nothing beats a good old-fashioned book. That is why, for book enthusiasts, there is no better location to spend hours shopping and seeking bargains than the local book market.
Shopping for books on the street is always entertaining, even if it sometimes entails sifting through countless piles of incomprehensible nonsense to find something interesting.
There are hidden passageways in several Indian cities that are little-known treasure chests of books. For bibliophiles, these streetside marketplaces with their steals and deals on all kinds of books are a dream come true.
Here is a list of 7 book street markets in India which are a must-visit for all book enthusiasts:
1. Daryaganj Book Market and Nai Sadak – Delhi
The Daryaganj book market and Nai Sadak in old Delhi are two notable book markets in the national capital. Daryaganj's Sunday book market is known for being a one-stop-shop for all book lovers.
Books of all kinds are available to dedicated bibliophiles, and at amazing prices (though a little haggling never hurts). This was Khushwant Singh's favorite hangout; a little-known fact is that it is still standing thanks to the late author's efforts.
The market was meant to be closed because it obstructs traffic flow, but Singh personally wrote to the Municipal Corporation of Delhi to request that it not be closed.
The appeal of the Nai Sadak market is that it is open every day except Sunday. It has double-story buildings on both sides of the street, with booksellers on the lower levels. This street is well known for its large-scale wholesale and retail marketplaces for textbooks, primarily for schools and colleges.
2. College Street – Kolkata
College Street in Kolkata is India's largest book market, earning it the affectionate moniker Boi Para – Book Town. College Street is also the world's largest secondhand book market, covering about one million square feet.
Hundreds of bookstores, both large and small, along the mile-long boulevard, which also houses several of India's largest publishing houses.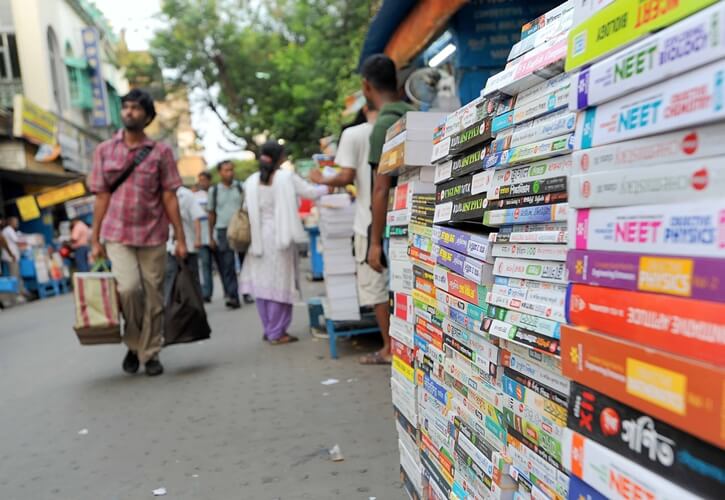 The bookstores range in size from traditional brick-and-mortar establishments to improvised kiosks built of bamboo, canvas, or metal sheets.
The main attraction of College Street is that it houses a collection of nearly every title ever sold in Kolkata. Rare books are offered at rock-bottom prices, and considerable haggling is the norm.
When browsing the shops at this book market, keep an eye out for a first edition Dickens tucked away amid the latest Dan Brown thrillers. Don't forget to stop by the famous Indian Coffee House for a cup of chai, a samosa, and the latest news.
3. Avenue Road – Bengaluru
For Bengaluru students, a trip to Avenue Road is a rite of passage. Walking down this bustling street, books are stacked up to 9 feet high and as far as the eye can see.
There are books on every subject imaginable, ranging from management to medicine to the most recent fiction novels. It's not uncommon to see bibliophiles leafing through these volumes, with the dealers deftly locating the ones they desire.
This always-bustling one-way street in Chickpet is lined with heritage buildings, food carts, and hundreds of shops selling wholesale stationery, jewelry, and textiles.
It's also one of the greatest sites in Bengaluru to sell your old textbooks (including the ones you never opened and never plan to read)!
4. Koti and Abids (on Sundays) – Hyderabad
The Sunday Abids book market is the first name that comes to mind when one thinks of book bazaars in Hyderabad.
On Saturdays, when the stores in Abid's close, the area – which runs from the Taj Mahal Hotel to the post office – transforms into a lively market with roadside sellers selling clothes, fruits, and books.
The primary book market is located inside the neighboring complex, where haphazardly stacked tomes nestle alongside paperbacks at roadside vendors.
Various hardbound jewels, including the now-discontinued Reader's Digest collectibles, shortened copies of popular classics like David Copperfield, and more, can be found here.
If you're looking for scholarly literature, the Koti book market is around a 15-minute drive from Abids. Koti used to be the go-to spot for textbooks, with medical and engineering students flocking there on weekends in search of used copies of their expensive reference books.
While academic books were and still are the main focus of booksellers in this area (because of its closeness to institutions), many roadside sellers now also sell novels, periodicals, and children's books.
5. Moore Market – Chennai
Moore Market, located near Chennai's always-bustling Central Railway Station, is a local hotspot for used books.
This filthy market is crammed with little shops where students and avid readers may find a dizzying array of books, including classics, comics, fiction, non-fiction, biographies, magazines, college textbooks, and more.
Everything from old vacuum cleaners and aquariums to antique collector items can be found at the crowded market.
Moore Market is the go-to destination for Chennai bibliophiles when it comes to bringing in their monthly book harvest, especially when the sellers have amazing knowledge about the books they sell.
6. Flora Fountain – Mumbai
Flora Fountain in Fort, Mumbai, is a book lover's dream and a little bit of heaven for any bibliophile. Secondhand books by authors ranging from Vikram Seth to William Shakespeare to Robert Edwards, author of Technical Analysis of Stock Trends, are available at this busy street-side market.
Students looking for old textbooks, commuters looking for literary diversions from their daily train commute, and visitors who have read about the legendary 'Book Lane' in their guidebooks are among the bookseller's clientele. They've all come to buy books at 20-60% off the quoted publisher's price, both originals, and counterfeits.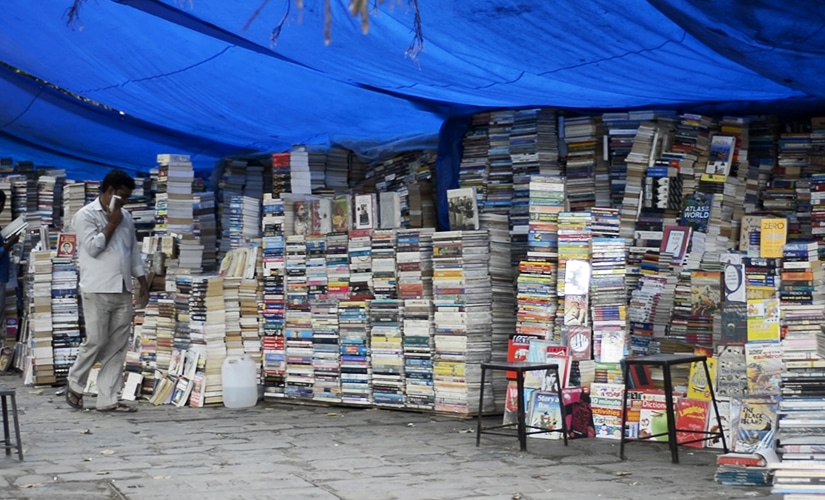 The first scene upon exiting the Churchgate subway is massive heaps of books all over the place. Because the stacks of books are so tall and wide, the vendors have built mini-open fortresses with book-filled walls for hungry readers to peruse.
Flora Fountains provides something for everyone, from rare classics to recent bestsellers, scholarly publications, and even decades-old comics. If you're lucky, you might even come across some high-end coffee table novels.
7. Appa Balwant Chowk – Pune
Appa Balwant Chowk, or ABC as it is affectionately called in Pune, is a well-known name in the world of Indian book marketplaces.
For Pune students looking for a lost edition of an academic blockbuster or a new book that has just been launched, this book market is known as Mecca.
Apart from the book bonanza that greets tourists at Appa Balwant Chowk, the New Poona Bakery's famous cream rolls and puffs are the reason why it's difficult to leave the market empty-handed.
These well-loved book fairs can be found all across the country and are great places to pick up discount books and rediscover the joy of reading. Do let us know your stories about these and other book markets that you visit.
Also Checkout: Movies That Live Rent Free In Our Heads