Delhi's dynamic environment and fast-paced lifestyle might be exhausting at times. The monotony of our daily routine might get to us! There is no better cure than travelling, to refresh your tired body and mind.
A relaxing 2-day journey from Delhi can prove to be a fantastic getaway if you wish to get away from the rush and bustle of the national capital.
If you are unable to take a long trip, make use of the weekends. As we approach the end of 2021, commit to explore and breathe in the natural beauty of India's tiny towns.
Here are a few amazing spots for unforgettable short vacations from Delhi, ranging from charming towns to breathtaking hill villages.
1. Pushkar
Pushkar, a vibrant town in Rajasthan, is one of India's most spiritually significant locations. Every year, the world-famous Camel Fair is held at Pushkar, which is home to the last remaining Brahma temple.
The Pushkar Lake, Brahma Temple, Meerabai Temple, Pushkar Bazaar, Apteshwar Temple, and Savitri Temple are just a few of the magnificent places to see in Pushkar.
You can take a hot air balloon ride over the city's stunning environment and attend the evening aarti at the ghats. At one of the many street food carts, indulge in some delectable Malpua and Kachori.
Getting to Pushkar from Delhi: The quickest option to get to Pushkar is to take the train to Ajmer, which is only a short cab ride away. Alternatively, take a cab or your car down!
2. Sariska
Sariska, a well-known tiger reserve in Rajasthan's Alwar region, is one of the most popular weekend escape locations from Delhi. A jeep safari can be used to explore the wildlife sanctuary's diverse flora and fauna.
Visitors can also see the stunning Sariska Palace, which was once the royal residence of Alwar. Pandupol Temple is always worth a visit due to its gorgeous setting and significant relationship with Hindu mythology.
Other notable sites include the Kankwadi fort, Kalighati, and Siliserh Lake.
Getting to Sariska from Delhi: From Delhi, take the Alwar-Sariska train to Sariska. The railway station is only a one-hour drive from the tiger reserve. Alternatively, you can take a direct bus to Sariska. Sariska is also a fantastic road trip destination, being only 200 kilometres from Delhi.
3. Lansdowne
Lansdowne is a picturesque hill station in Uttarakhand's Pauri district that provides a perfect refuge from the hectic city life. The place is known for its peace and scenic beauty, and it is one of the top off-the-beaten-path destinations for 2-day vacations from Delhi.
You can plan a delightful picnic beside the beautiful Bhulla Lake while admiring the breathtaking view from the Tip N Top mountaintop. The historic St. John's Church is another renowned tourist attraction.
Take a jungle safari to fully appreciate the town's beautiful scenery and diverse flora and animals. Other must-see attractions in Lansdowne include the Kalagarh Tiger Reserve, Bhim Pakora, and Darwan Singh Sangrahalaya. Kafuli, Thechwani, Phaanu, Baadi, Aloo ke gutke, and Kulath ki dal are just a few of the exquisite local Garhwali delicacies you should try.
Getting to Lansdowne from Delhi: From Delhi, you can take either a rail or a bus to Kotdwar. Kotdwar is around 39 kilometres from Lansdowne and is well-served by buses and taxis.
4. Almora
The delightful village of Almora, located in Uttarakhand, is the ideal location for a relaxing vacation amidst the majestic Himalayan range's wilderness.
The tiny town also houses several important tourist attractions, including Jageshwar Temple, Martola, Katarmal Sun Temple, Lakhudiyar, and Kalimath, in addition to its serene ambience, rich wildlife, gorgeous landscapes, and strong cultural legacy.
On your 2-day vacation from Delhi, shopping at the local Thana Bazar is a must-do activity. You can also hike to Zero Point and take in the breathtaking vistas it provides.
Getting to Almora from Delhi: From Delhi, you can take a direct bus or a rail to Kathgodam, which is 81 kilometres distant. Kathgodam and Almora are connected by public and private buses.
5. Corbett
Jim Corbett National Park is located in Uttarakhand's Nainital District and is known for being Asia's first national park. The magnificent Park encompasses hills, lakes, grasslands, and streams, and is best known for hosting Royal Bengal Tigers.
You may go on a jungle safari or an elephant ride to see the Park's diverse fauna. River rafting and the intriguing Corbett Museum are also available to visitors.
Other notable attractions in Corbett are the Corbett Falls and the Garjiya Devi Temple.
From Delhi, the nearest railway station to Jim Corbett National Park is Ramnagar, which is only 12 kilometres away. Numerous trains run between Delhi and Ramnagar. From Delhi, you can alternatively take a direct bus or taxi.
6. Rishikesh
Visiting Rishikesh is always a good idea, whether you want to admire mesmerising landscapes, feed your spiritual side, or experience the excitement of adventure sports.
On your 2-day tour from Delhi, visit the bustling town of Rishikesh, which is located in Uttarakhand along the banks of the river Ganga.
Some of the most popular tourist attractions include Ram Jhula, Laxman Jhula, Beatles Ashram, Swarg Ashram, Tera Manzil Temple, Muni Ki Reti, and Triveni Ghat.
You can participate in exciting activities like kayaking, camping, river rafting, bungee jumping, mountain biking, cliff leaping, and parasailing, in addition to visiting these places. Rishikesh and Delhi are connected by daily trains and buses.
7. Dhanaulti
The little village of Dhanaulti is a great destination for relaxing in the lap of nature, thanks to its pastoral mood and stunning views.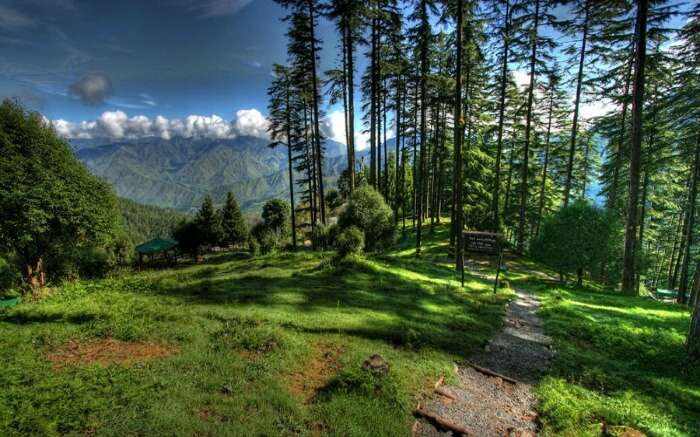 Surkanda Devi Temple, Deogarh Fort, Dashavatar Temple, Eco Parks, and a Potato Farm are among the many lovely places and unique tourist attractions.
Camping, zip-lining, rappelling, and mountain biking are all options for adrenaline junkies. The most convenient method to get to Dhanaulti from Delhi is to take a direct bus or a private taxi.
Also Read: These Films Get It Right When It Comes To Female Friendship