Kylie Jenner is an American media personality, entrepreneur, and model who is best known for her roles on E network "Keeping Up with the Kardashians" and "Life of Kylie". She has her own cosmetics line, Kylie Cosmetics, and is a part of the MTV Network.
Career and history
Kylie Kristen Jenner was born in Los Angeles, California on August 10, 1997. She is the youngest daughter of Bruce Jenner (now Caitlyn Jenner), a 1976 Summer Olympics decathlete, and TV personality Kris Jenner. Kylie comes from a large extended family. Kendall, her younger sister, is also a model. Kourtney, Kim, and Khloé Kardashian are Kylie's older half-sisters, while Rob is her half-brother. Burt, Brandon, and Brody Jenner, as well as an older half-sister named Casey, are the businesswomen's half-siblings from the Jenner side of the family.

CNN

Kylie has almost 256 million Instagram followers, 38.8 million Twitter followers, 32 million Facebook fans, 11.11 million YouTube subscribers and fans.

Kylie began her profession at a young age. Her family began appearing on the successful reality television show "Keeping Up with the Kardashians" in 2007, which documented their life. The show also spawned a number of spin-offs, including "Life of Kylie," which debuted in 2017 and focused only on Kylie's life. Kylie and her sister have been establishing their businesses and brands since they were children. Kylie and Kendall started working on things, collaborating on them, and endorsing them when they were just teenagers.

Otakukart

Kylie and her sister, Kendall, collaborated with PacSun in 2012 to launch their own apparel line, "Kendall & Kylie," when Kylie was just 14 years old.

Kylie started her own cosmetics line, Kylie Lip Kits in 2015. The line was then renamed Kylie Cosmetics. Her lip kits became increasingly popular, and her cosmetics collection has now grown to include a number of popular products.

Kylie Jenner has over a billion followers across all of her social media, making her one of the most popular people on the internet. She became one of the most followed persons on Instagram in November 2019.

Showbiz Cheat Sheet

Because of their clout among teenagers on social media, the Jenner sisters were selected to TIME Magazine's Most Influential Teens in the World list in both 2014 and 2015.

Kylie was named to Forbes' Celebrity 100 list in 2017, and she was one of the list's youngest members. The New York Post declared her one of the most prominent celebrities on social media and in the fashion industry the following year.
Entrepreneurship
Because of Jenner's makeup firm, Kylie Cosmetics, she was named the world's youngest "self-made" billionaire by Forbes at the age of 21. However, according to a Forbes investigation published in May, Jenner is not a billionaire. According to the journal, Jenner has lied to Forbes and other media about the size and profitability of her firm since 2016.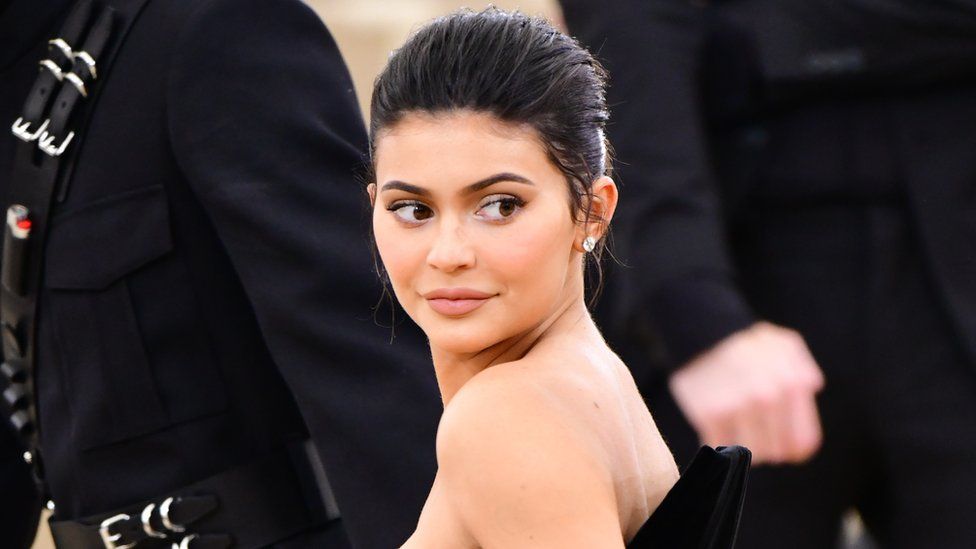 According to Forbes, Jenner created Kylie Cosmetics in 2015 and claims to have made $400 million in revenue in the first 18 months. Jenner sold a majority stake in her cosmetics brand to beauty multinational Coty Inc. for $600 million in November 2019, valuing the company at $1.2 billion.
Personal life
In April 2017, Kylie Jenner began dating rapper Travis Scott. Later, reports circulated that she was expecting a child, but neither Kylie nor any other member of the Kardashian/Jenner family would confirm it.
After that Jenner gave birth to Stormi Webster on February 1, 2018, weighing 8 pounds, 9 ounces. She then uploaded an 11-and-a-half-minute video to YouTube, following her pregnancy up to the moment she became a mother.
The video shows Kris Jenner giving birth to Kylie and the family matriarch saying beautiful things to the newest child of the famous TV clan: "You've got the best mom and you're so lucky," Kris adds. "What a blessing; it's going to be the most incredible journey."
Also Read: The Kissing Booth 3– A Letter To Elle Before The Final Ride

Selena Gomez, Happy Birthday! Here Are All Of The Reasons Why She Inspires Us