Manali is also Himachal's adventure capital. The hill station's scenery is ideal for giving you a sense of adventure. Despite the beautiful scenery and relaxing atmosphere, the best things to do in Manali are a key lure for visitors.
Manali's culture, history, and cuisine are excellent, and if you haven't already, try some of the tangy local delicacies like flavorful Mittha, nutty red rice, and Channa Madra. Travellers go to Manali to admire the scenery. Here is a list of the top 9 things to do in Manali to ensure you have the best time possible in this highland location. Make sure to participate in the majority, if not all, of the enjoyable activities available in and around Manali.
1. Get Immersed In The Tranquil Landscapes
The Himalayan countryside is breathtakingly beautiful. Visit some of the villages in Manali, such as Malana, Kothi, and Vashisht. Malana is also renowned as one of India's most beautiful villages, and the rustic setting is well worth visiting! Kothi is also one of the most picturesque places around Manali, located wonderfully at the foothills of Rohtang Pass, about 12 kilometres from Manali. 
In the backdrop of the Beas River flowing through a very steep and tight gorge at this point, this charming settlement gives a magnificent view of the snow-capped mountains and glaciers. Kothi is also an exquisite spot for a night's camping and a wonderful pit stop if you're intending to hike up the Rohtang Pass Valley while taking in the scenery.
2. River Rafting
River rafting in Manali is one of the most popular activities in Himachal Pradesh. The Beas River, which flows through the highlands, is teeming with exciting activities. Prepare yourself for the exhilaration of surviving the rapids on a raft. In fact, this is one of my fondest recollections from a Manali vacation.
In addition, the River Beas is regarded as one of India's top rafting segments. There are also simple sections for beginners as well as tough stretches for experienced adventurers. Pirdi also features a specific water sports complex, which offers a variety of adventurous activities.
3. Take A Hot Water Bath At Manikaran
If you are visiting Manali, you should not miss this tourist attraction because nothing beats a relaxing hot water bath at Manikaran, one of the city's religious sites. Manikaran Gurdwara is a well-known pilgrimage place, particularly for Sikhs and Hindus, who believe that the waters of Manikaran have therapeutic characteristics and can help with ailments such as muscle soreness and rheumatism. 
According to folklore, Shri Guru Nanak Devji and his disciple Bhai Mardana erected the holy spot. Pay respect to Guru Granth Sahib alongside countless other devotees in the serene Gurudwara. Don't miss out on a bite of the sacred langar and a bath in the hot water springs, which are known for their healing abilities.
4. Visit The Famous Hadimba Temple
Hadimba Temple is one of the most popular tourist attractions in Manali. It's a mediaeval temple about 1.5 kilometres from Mall Road. In 1553, Raja Bahadur Singh built a four-story wooden shrine in the centre of Van Vihar, a dense forest.
Goddess Hadimba is honoured with a pagoda-style structure. Despite the fact that no idols are worshipped here, a set of foot imprints are treasured as sacred. Every year, the Bahadur Singh Re Jatar fair has been hosted for centuries. The temple is worth a visit for its tranquil location. Also, don't forget to take a photo with the stunning structure.
5. Trekking
Manali is a trekking enthusiast's dream come true. The Himalayas provide plenty of opportunities for adventure. The stunning location offers fantastic trekking trails with panoramic views of the snow-capped Himalayas. Trekking is a relatively new concept that is gaining popularity across the country. This thrilling adventure blends spiritual and physical well-being.
Rohtang pass to the snowline, Bhrigu Lake Trip, Chanderkhani Pass, Tapri to Kalpa, Sar pass, Sangla to Baranag trek, and others are among the most popular hikes. Seasonal treks are available, as well as treks that can be undertaken at any time of year when the mountains call.
6. Recharge Yourself By Visiting "Khajjiar"
Khajjiar, often known as India's "Mini Switzerland," is a haven for nature lovers and adrenaline enthusiasts. The fresh air in the midst of nature is beyond amazing, and it's also known for adventure activities like zorbing and paragliding, where you can experience rolling down the hill in a huge, unbreakable, and transparent ball that will make your world go round, and the hilly green slopes of Khajjiar are the ideal location for this thrilling activity.
If you're nervous, don't worry; the guides will look after you, and you can even zorb with a friend or loved one. While there are other excellent zorbing alternatives in Manali, Khajjar provides the ultimate experience. The ideal months to go zorbing in this area are usually January to May and October to December.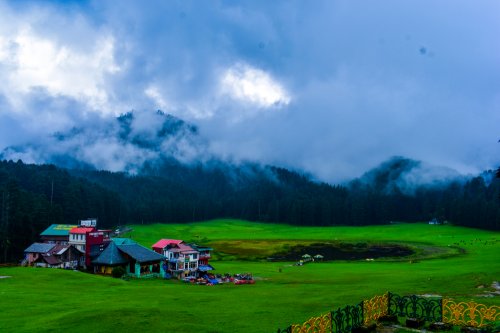 7. Spend time at Rahala Waterfall
The Rahala Waterfalls are a beautiful sight near Manali. On the way to Rohtang Pass, this waterfall can be found. The meltwater from the glaciers feeds the waterfall. Water gushes down from a ridge at a specific height, creating a stunning image.
Take a break and take in the beauty of the falls. The vista of snow-capped mountains in the distance, as well as the surrounding deodar and birch trees and nature's melodies, fill you with joy. Take a picnic with your family or friends. Take a picture of yourself; the photo will serve as a lasting reminder of your vacation.
8. Camping In Solang valley
Manali's Solang Valley is the centre of activities. The valley, located 13 kilometres from the hill town, offers views of glaciers, snow-capped slopes, and peaks. Whether it's summer or winter, the valley has something to offer everyone.
When visiting Manali, you must pay a visit to Solang Valley. Try camping to get a taste of the valley's charms. Camps are also open all year, providing comfortable lodging and a variety of adventurous activities. Skiing, trekking, rock climbing, rappelling, river crossings, paragliding, ATV rides, Zorbing, bonfires, and many other activities are available. In addition, camping in Solang Valley is undoubtedly one of Manali's most popular activities.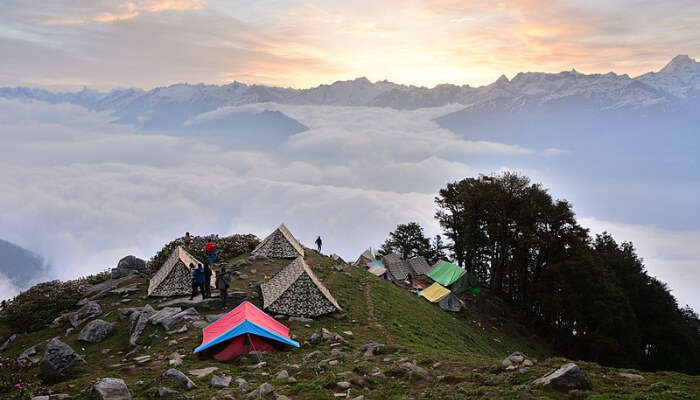 9. Explore The Naggar Castle
The Naggar Castle is a wonderful mediaeval castle located in Naggar Town, amidst breathtaking forested hills. The abode of Raja Sidh Singh of Kullu, this palace was made of stone and wood. It is a remarkable blend of European and Himalayan style, built-in 1460. There are some fantastic artworks on a show for art aficionados. Check out the works of renowned Russian painter Nicholas Roerich.
The castle was converted into a heritage hotel by the Himachal Pradesh Tourism Development Corporation in 1978. (HPTDC). A journey to Manali isn't complete without a stop at this attraction. Take home traditional goods such as wall hangings, antiquities, and impressions of Roerich's paintings as souvenirs.