If Modern Love: Mumbai was capturing the different elements of love in each of the episodes, My Beautiful Wrinkles demonstrates the sexual and seasoned side of it. 
Illustrating the intensity of love stories in yet another expression, My Beautiful Wrinkles follows a young man played by Danesh Rizvi, who soon became a heartthrob after his role in A Suitable Boy, alongside Dilbar (Sarika) a woman in her sixties.
Sarika returned to the screen after a long time, her last film being Baar Baar Dekho (2016). From doing motherly roles, this charismatic artist is now seen leading this episode as a protagonist.
There we have Dilbar in the beginning, having a gathering with her aged friends, playing cards, and bragging about trivial things that none of them even care about.
Appearing to be extremely superficial and ostensible, all of them seemed to have a particular shallowness to them except Dilbar. 
Dilbar has a facade created like everyone else but behind her gloomy eyes, there are unresolved issues and past traumas. Sarika gave an excellent performance using not just her dialogues but expressions to help viewers understand the conflict she has and the demons of the past that still hover above her soul.
Danesh Rizvi and Ahsaas Channa did justice to their roles as well. However, the episode is carried entirely by Sarika where she sometimes overshadows the other characters. Channa's character as Dilbar's granddaughter could have been explored better. 
The daily interview-drill sessions and cup of coffee lead to the young man confessing his desires towards Dilbar.
In a society where hurdles like gender, caste, and religion strangle the blossoming love stories, an age gap of more than three decades led Dilbar to feel strange and mortified.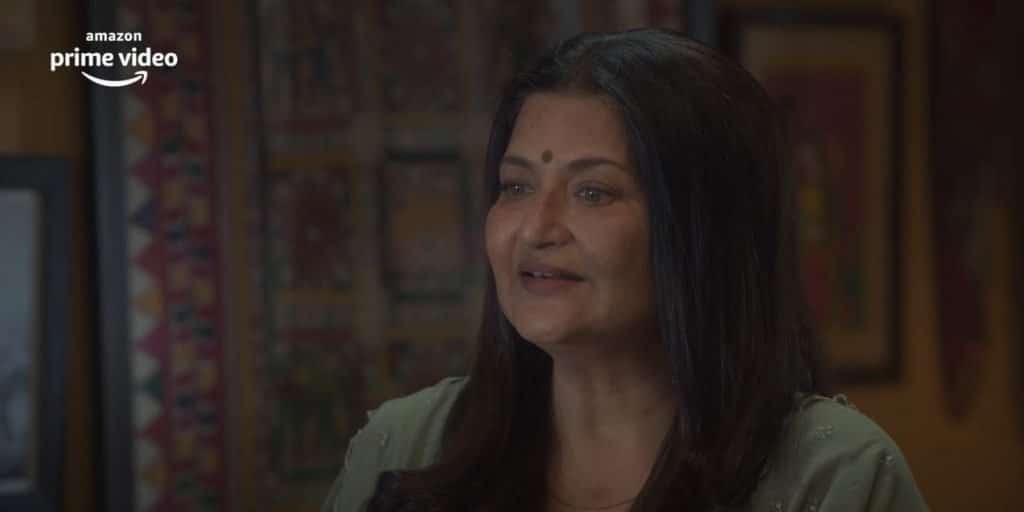 The progression of the story opens up the incident around Dilbar's life when her husband died in a car accident while she was driving. The fiat, almost obliterated and rusted, is still parked outside her house. 
The director Alankrita Shrivastava, who wrote and directed the critically acclaimed black comedy Lipstick Under my Burkha, has wonderfully depicted the sexual fantasies that are a part of every person's life, however, swept under the carpet to symbolize the humiliation it brings. 
She has focused on several elements of love, whether it is loving your aging body, loving someone older or younger than you, or realizing when it is right to walk away from love.
In one of the sequences, the young man gives a very sensual drawing of Dilbar to her. The portrait celebrates the parts that she finds imperfect due to her age.
In another sequence, Dilbar's granddaughter, featuring Ahsaas Channa, is seen crying as the guy she likes does not find her attractive enough. 
The two scenes mold the difference between affection and lust. The artistic approach to sexual interests being a fundamental part of affection but not necessarily the root of it while contrasting it with emotions based purely on temptations is highlighted subtly.
The use of fiat as a metaphor where Dilbar eventually encounters her past traumas and lets them go just like the car parked outside her house is a solid reminder of how memories can erode not just the beautiful moments of the past but the reality of the present as well. 
From battling outlines that showcase age to accepting them the way they are, My Beautiful Wrinkles is a tribute to the beauty that does not rely on age.
Also Read: Bhool Bhulaiyaa 2 Movie Review: Brilliant Performances In This Satisfactory Sequel