Nearly twenty-six years ago, the first episode of Friends aired on 22 September 1994. Becoming one of the most popular sitcoms of all time, Friends has garnered a massive following from people all around the globe. 
Jennifer Aniston, Courteney Cox, Lisa Kudrow, Matt Leblanc, Mathew Perry, and David Schwimmer— the friends we always wanted eventually became an important part of our lives. 
It was UK's favourite streaming show in the year 2018, and that is an open testimony to the fact that even after years of its end, Friends remains 'home' for its lovers.
Whether it is Chandler's sarcastic remarks, Joey's unmatchable jokes, Monica's obsession with cleanliness, or Phoebe's giddy behaviour, a Friends marathon is all we need to feel like we have finally entered home! 
So, if you have done watching Friends Reunion, which obviously made you cry, it is now time to take a trip down memory lane and revisit some of the most memorable moments from the series! 
1. Where Monica gets a Roommate
The first memorable moment was in the show's pilot itself. Rachel abandons her wedding halfway and comes running to Monica— fun fact: she was the only friend who wasn't invited to her wedding.
What made the scene even funnier was when Ross just seconds ago remarked that he wanted to be married again, and whoosh came running Rachel dressed as a bride! 
2. 'Smelly Cat'
In season two, our ditzy Phoebe graced us with a trademark song called 'smelly cat.'
"Smelly cat, smelly cat, what are they feeding you? Smelly cat, smelly cat, it's not your fault…" 
Her mastery as a singer is truly ambiguous!
3. The Football Game
Thanksgiving is always extra catchy and funny; in season three, the fun sparks in the form of a football game.
All is going well when suddenly childhood rivalry between Ross and Monica for the 'Geller Cup' boils out of nowhere. The episode remains one of the fan's favourite! 
4. Wedding Dress
Rachel is sad after knowing about Ross's engagement, so Phoebe and Monica come to the rescue to make her happy.
All three of them wear wedding dresses and end up drinking beer and eating on their couch.
5. The Box
When Chandler kisses Joey's girlfriend, Joey refuses to talk to him. The classic Joey only swears at him that too in Italian.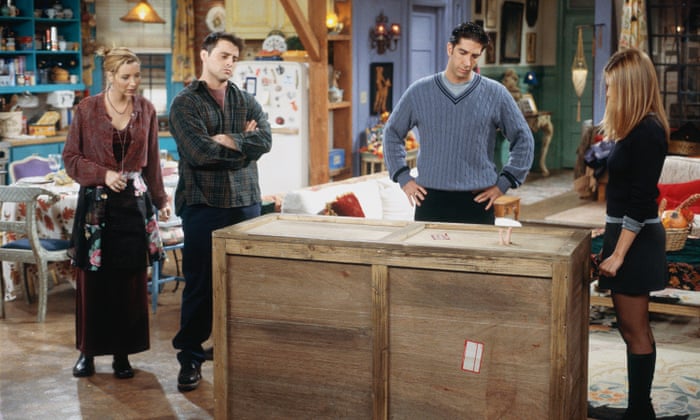 As Chandler couldn't stand without talking to Joey, he ends up sitting in a wooden box when Joey threatens to move out. This adorable act of achieving Joey's forgiveness is proof of their true friendship.
6. The Proposal
When Chandler decides to propose to Monica, the plan goes astray with the interruption of Monica's ex Richard during their dinner. After pondering on her future with Chandler, Monica decides to propose to him as well.
She plans a surprise for him at her apartment by decorating it with candles.
When she becomes stressed with the overwhelming feelings of the proposal, Chandler continues with his plan and proposes to her. Our one true pairing finally accepts the proposal!
7. The Turkey Face
Thanksgiving is a special day for friends, and it is true for the fifth season as well. However, this time it is not a football game or Brad Pitt's special appearance, but a Turkey on the head of Monica and Joey.
Joey got stuck in an attempt to scare Chandler and Monica wears the turkey for Chandler as a way to seek his forgiveness.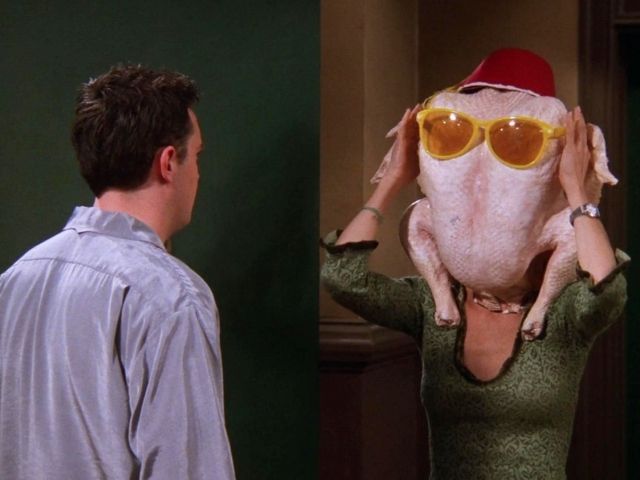 And on top of that, this was the first time Chandler told Monica that he loved her, making the occasion extra special for us.
8. Red Sweater
Joey's reaction in this scene has materialized as a famous meme over the years.
It is the ending of the episode when Ross confirms that the red sweater belongs to him and hence, he is the father of Rachel's baby.
How could we ever forget this moment?
9. The Wrong Name
Most of you must have guessed from the title itself which scene we are talking about.
Friends' most dramatic and, at the same time, the thrilling moment was when tying the knot with Emily, Ross accidentally says Rachel's name.
It was the fourth season, and even though they continued with their marriage, it didn't last for a long time. 
10. The Nap
This has to be on your list of funniest moments in the show.
When Joey and Ross fall asleep on the couch together, they try their best to hide from the others. However, luck is not on their side the second time, and they get caught!
Also Read: To John Ambrose, With Love; A Heartfelt Letter to To All The Boys: P.S. I Still Love You Character, John Ambrose