Pune has historically been a pleasant climate city, making it an ideal location for outside dining long before the epidemic made alfresco dining the norm.
These are Pune's greatest outdoor dining spots to enjoy a meal beneath the open skies, ranging from old favourites to newcomers.
1. Malaka Spice
Malaka Spice, a food display from Malaysia, Thailand, Indonesia, Singapore, and Japan, was founded in 1997 by Praful and Cheeru Chandawarkar. Think laksa, dumplings, satay, and other Southeast Asian dishes.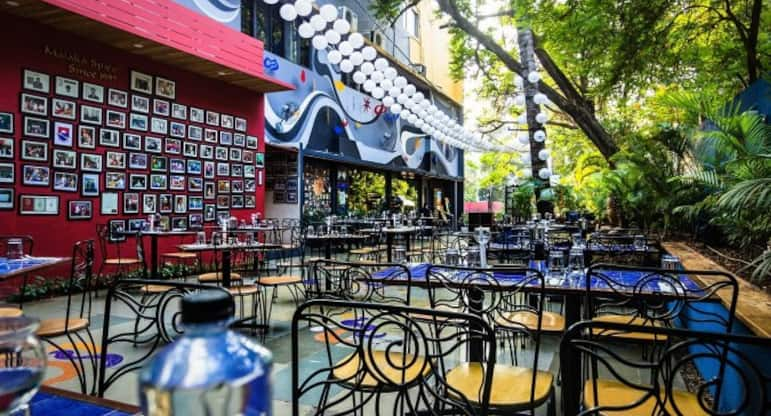 The restaurant is committed to the farm-to-table idea, sourcing the majority of its ingredients from its farms.
With wrought-iron furnishings and loads of potted plants, the outer part has an old-world elegance that's ideal for a long weekend breakfast with friends.
2. Donatella
This restaurant, located in the heart of Koregaon Park, serves a combination of Italian and Mexican cuisines as well as a variety of delectable desserts.
Its outside dining area, which is shaded by fairy lights and cane lamps, is a lovely place to relax and enjoy some tiramisu and coffee.
3. Prem's
Anyone for a beer with breakfast? Prem's is a well-known Pune restaurant that began as a tiny café serving parathas in 1986.
It has evolved into a popular neighbourhood diner, selling everything from biryanis to Chinese cuisine.
Its laid-back ambience, wooden tables, and outside sitting under the trees make it a great place to hang out at any time of day. For an evening out, their in-house molecular bar keeps things shaky and stirred.
4. The Sassy Spoon
The Sassy Spoon at Koregaon Park serves everything from summer salads to delectable burgers, as well as delectable all-day breakfasts and a diverse selection of small plates from around the world.
With comfy seats, flower-bedecked balconies, book nooks, and a cheery alfresco portion done up in white and pink; the venue screams Parisian flair.
This is your all-day go-to choice in Koregaon Park, whether it's wine and spaghetti or cupcakes and coffee.
5. Shisha Jazz Cafe
This wonderful outdoor cafe is famed not only for its food but also for its live music, thanks to its mood lighting, bamboo and wood decor, and treehouse ambience.
This is the location to catch some of Pune's finest renowned bands as well as discover new voices, from rock 'n' roll to jazz performers.
Enjoy an evening of music under the stars with a beer tower and their quite big mezze plate.
6. Paasha
Paasha, a restaurant at the J.W. Marriott, specialises in Northern Western frontier cuisine and offers a breathtaking perspective of the Pune skyline.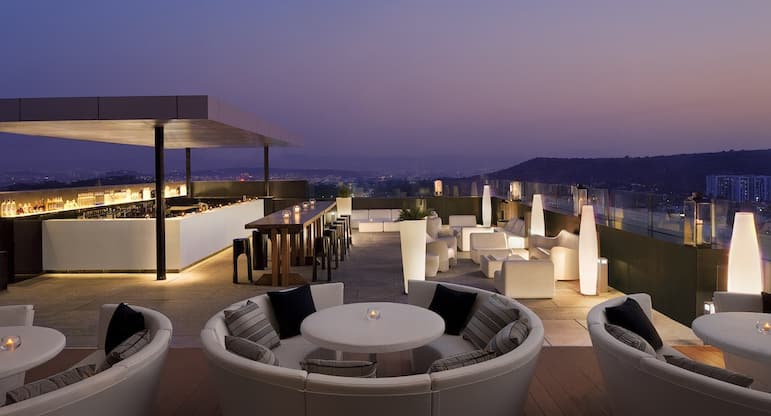 Enjoy the city lights while sampling signature dishes such as kakori kebabs and lasooni jhinga, as well as a selection of chic cocktails created by their expert mixologists.
7. Blue Water
This Aundh all-day fine dining restaurant is a sophisticated room with potted palms and hidden lighting that comfortably transitions from brunch to sundowners to evening.
Choose from a variety of small plates and major courses, including Indian, Chinese, and Continental fare, and relax while taking in the city's pleasant weather.
8. Murphies
This is a place with a large outdoor portion, in addition to their focus on all things potato and craft beer. With its wooden details, exposed brick walls, and gentle lighting, the space is hipster-chic.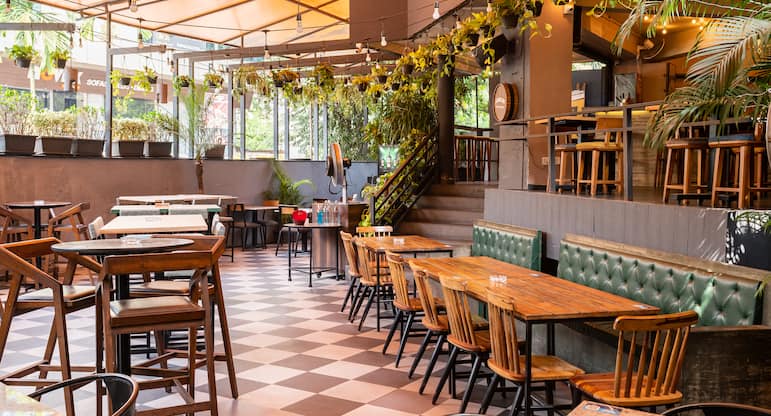 Get their loaded potato skins and a selection of beers, then relax and enjoy your carb-free day.
9. Arthur's Theme
Started in 1997, this is another city icon and a great spot for the whole family. Every dish on the predominantly Continental menu is discovered through quirky names like Houdini, Victor of Ghoul, Quixote, Marie Curie and more.
The outdoor section is cosy, intimate, and a tried and tested weekend favourite among locals.
10. The Daily All Day
The Daily is a 4,000-square-foot Mumbai import that provides elegant cocktails, terrific music, and a laid-back outside portion perfect for relaxing.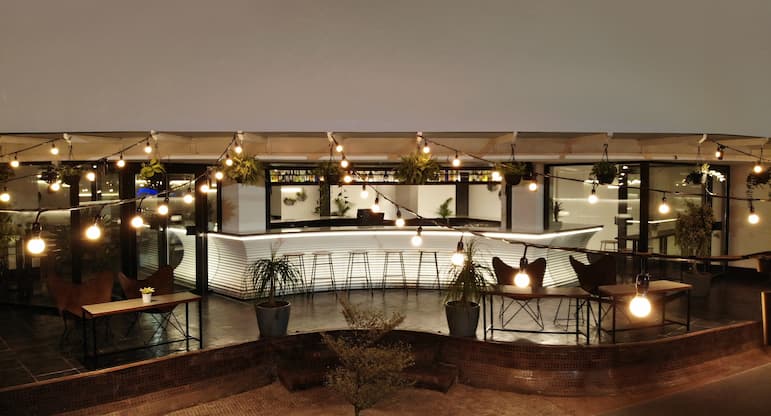 This spot changes during the day depending on your mood, whether it's a night out or a sundowner with pals.
Also Read: The Peace Playlist By A R Rahman That We All Need