The 20s is the time where all of us struggle to steer our life in the right direction. We try learning new skills and gaining experience to develop a successful professional life. 
It can be tiresome sometimes and all of us deserve a break. What is a better leisure activity than spending time reading books that offer considerable advice?
So, for all the readers and non-readers as well, we have created a list of interesting books that have something for everyone and should be definitely read in the 20s! 
1. Roar by Cecelia Ahern
Roar is a collection of 30 short stories around 30 different types of women who challenges life and are challenged by it in their own way.
Each of us has a different story to tell–some of us were victims of stereotypical thinking while some were chained by our own loved ones.
Roar tries to give voice to women and convey their struggle in a plain and simple manner that has the power to influence us immensely. 
2. Wild: From Lost to Found on the Pacific Crest Trail by Cheryl Strayed
Wild is a memoir of American author Cheryl Strayed that narrates her 1100 mile journey on the Pacific Crest Trail.
There is a step in everyone's life where they realize that what they are doing is not what they actually want to do.
Some suppress their craving of staking everything while others dive deep into it and end up accomplishing their passion. That's what Cheryl did when she went on to that hike all alone at 26. 
This was the time where she discovered herself once again after convalescing from her mother's death, strained relations with her husband, and finally a divorce. 
3. The Year of Magical Thinking by Joan Didion
Regarded as one the greatest writers of the contemporary world, Didion had to go through an unfortunate event when her daughter went into a skeptic coma just before Christmas.
A few days later, her husband suffered from a fatal coronary, and just as her daughter recouped, she plunged deep into the loss of the love of her life.
The Year of Magical Thinking encompasses her combats and journey as she explored joy, death, loss, sanity, and recovery. 
4. How to Be a Person in the World by Heather Havrilesky
Heather Havrilesky writes for the column 'Ask Polly' on the online platform, Substack.
This book from Havrilesky scours some of the similar themes and introduces us to develop our own identity, process our feelings, and build our personality in a way that we become our own problem-solver. 
5. The Defining Decade by Meg Jay
People may say that the 20s is the time where we go YOLO or you only live once and end up making a lot of blunders– however, Jay has something else to offer.
As the title itself suggests, Meg Jay through comprehensive research demonstrates how the 20s is the most important decade in a person's life.
This is the period where we either make or break relationships, networks, careers, and individuality for the upcoming decades.
6. The Opposite of Loneliness by Marina Keegan
Marina Keegan graduated from Yale University in May 2012. She had a promising professional life ahead of her and a position waiting at The New Yorker.
However, life shows its unpredictable side, Marina died in a car crash five days after her graduation. 
Published posthumously, The Opposite of Loneliness is a collection of stories and essays by Keegan around figuring out our ambition and striving to refine our talents to leave an optimistic mark on this world. 
7. Fate and Furies by Lauren Groff
Fate and Furies gained international recognition in 2015, the year of its publication, and soon the word-of-mouth effect led it to land on the table of Barack Obama, becoming one of his favorite books.
The story is from a double perspective where the husband narrates from the standpoint of 'fate' and contrarily wife is on the side of 'furies.'
It illustrates that living with each other is not the ruling of how well two people know each other.  
8. Becoming by Michelle Obama
It may be hard to believe but Michelle Obama had her share of battles and obstacles. In this memoir, Michelle retells her struggles as she challenged the expectations of a society from a girl growing up in the South Side of Chicago.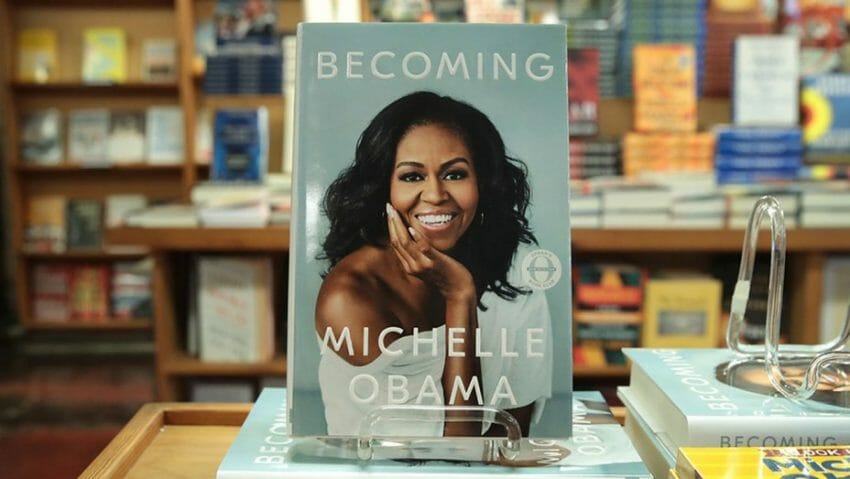 She also explains her journey of switching career paths and the courage it took to gain acceptance that becoming an attorney was not her true passion.
Becoming encourages us to eliminate the uncertainty that accompanies big changes in life whilst remembering that it is never too late to change career paths. 
9. Very Good Lives by J.K. Rowling
An underrated book by one of the most famous authors of the late 90s and early 21st Century, Very Good Lives can be called a detailed version of Rowling's commencement speech at Harvard that obtained global acclaim.
The creator of the wizarding world gives us magical words of wisdom and supports readers to embrace failure.
Rowling's own life was paved with struggles and downfalls so Very Good Lives is an insightful book that should be read before you turn 30! 
10. How to Lose Friends and Alienate People by Toby Young
Yes, we all know about rags-to-riches stories that motivate us to keep going. But what's equally important in life is a success to failure story that shows us the harsh reality where things can turn upside down in a blink of an eye.
As an editor of Vanity Fair, Toby Young had tremendous dreams. And why wouldn't he?
He had everything needed for a luxurious life– a promising future, working in his dream job, meeting celebrities, and extending his social network. Within a span of two years, he had to lose it all. 
In this hilarious yet raw narration of the same events, Young presents a flawless cautionary story of an adverse change in luck for which none of us is really ready.
Also Read: 80s Fashion Trends That Made A Comeback