Every day, Bollywood has made an effort to provide audiences with new content. Remember when the movie industry was solely focused on romantic or action films? However, that is not the case right now. Bollywood has been experimenting with various themes, the most popular of which is the wanderlust theme.
Travelling has become a part of everyday life, and as a result, these new Bollywood films are focusing on achieving spectacular box office results.
These films have motivated a generation to pack their belongings and tour the world, or to put it another way, they have sparked wanderlust in them from DDLJ's gorgeous snow-capped mountains in Switzerland to Tamasha's lesser-known Corsica. 
The following is a list of such films:
1. Dil Chahta Hai (2001)
A film that set precedents and inspired a new generation to visit Goa! Anyone who saw this fantastic 2001 film wanted to pack their belongings and embark on a road trip to Goa with their buddies.
With its beautiful beaches, palm-fringed coastlines, delectable Goan food, friendly inhabitants, landmark churches, and laid-back beach towns, this location quickly became a favorite among young people and continues to be so today.
Along with Goa, the film also showed Sydney, Australia, which likely offered many of us our first look at the Sydney Opera House and the fascinating 'Opera' performance.
This brilliantly shot film not only showcased some renowned Goa and Sydney sights but also portrayed the great friendship relationship! Who can forget Akash, Sameer, and Sid's iconic pose at Chapora Fort?
2. Hum Tum (2004)
'Yeh Zindagi Bahot Lambi Hai Aur Hamare Pass Waqt Bahot Kam,' says the narrator. A scene from the film Hum Tum in which Karan (Saif Ali Khan) assures Rhea (Rani Mukherjee) that they will undoubtedly meet again in their lives.
If you think about it, this conversation could also serve as a source of inspiration for you to travel! This film follows its characters to the incredible destinations of Amsterdam, the United States, Paris, Delhi, and Mumbai.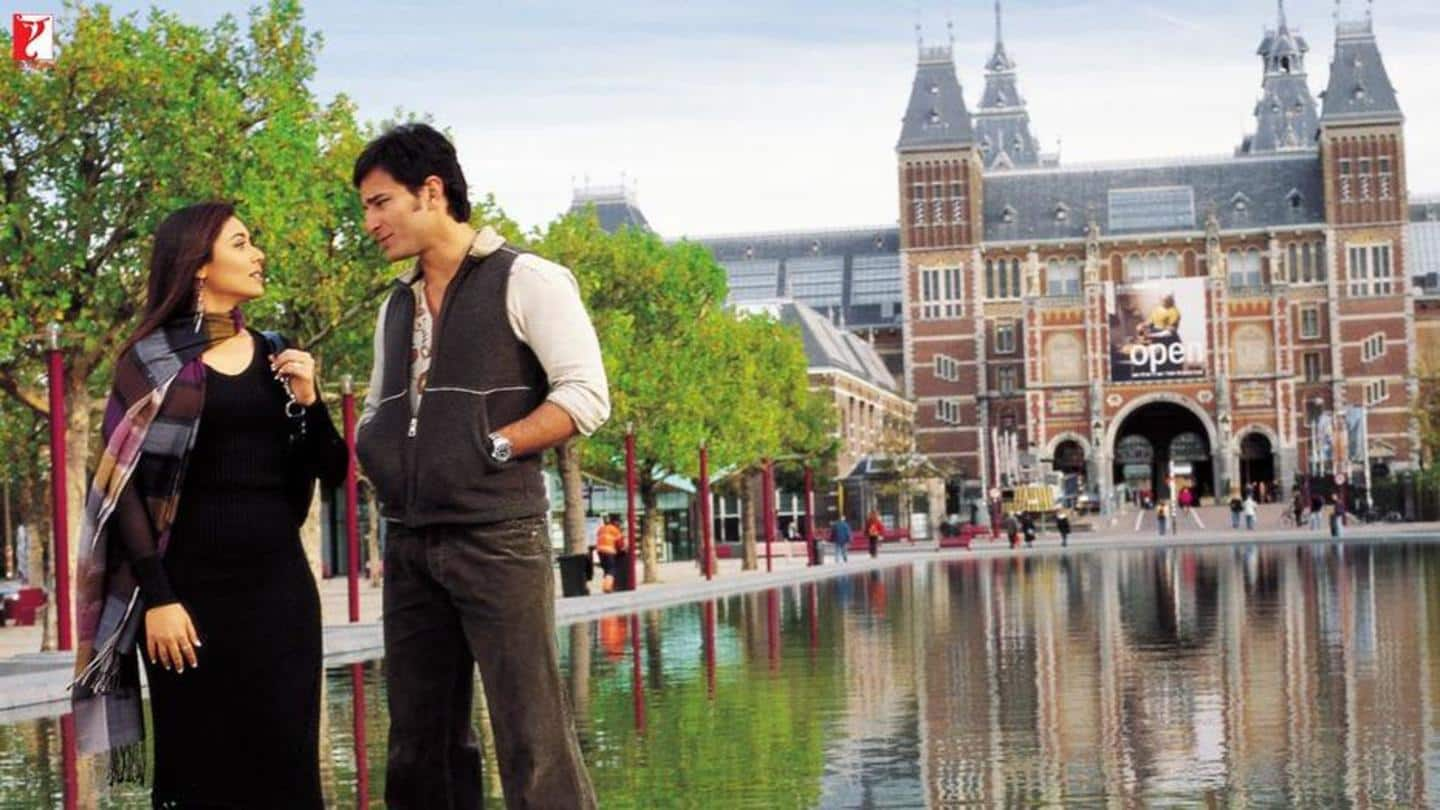 The characters keep running into one another at different points in their life, and their interactions fuel their particular chemistry and help to form their story. They take a tour of the beautiful city of Amsterdam on their first meeting.
Their next encounter takes place in Delhi, where they form an agreeable friendship. Paris proves to be a watershed moment for them, as they learn more about each other and create a strong friendship.
They finally understand their love for one other in Mumbai, and the city they are in plays a significant role in defining or deepening their relationship each time they visit.
This lovely short, based on the Hollywood film "When Harry Met Sally," is worth watching and will make you want to visit Paris and Amsterdam!
3. Jab We Met (2007)
Train rides have never been more entertaining! This film follows the journey of its two main protagonists, Geet and Aditya, who meet on a Mumbai train and then embark on a journey that would forever impact their lives.
They make pit stops at Ratlam, Kota, Bhatinda, Manali, and Shimla after an epic introduction in Mumbai, each time meeting humorous events that leave us in splits.
They go by bus, rickshaw, truck, cycle, jeep, and other vehicles as they journey through these small cities and villages, and they make you understand how much fun and excitement you can have while traveling by road.
The spectacular 'Rohtang Pass' was also revealed to us in the film! The video for the song "Ye Ishq Hay" was shot in the snowy sceneries of Rohtang Pass, with white glacial walls on both sides.
The 'Naggar Castle,' a major tourist attraction in the Kullu area, was also included in the song. So gather your Geets and Adityas and begin on an exciting voyage right away…
4. Love Aaj Kal (2009)
This one took Love to a lot of different places! The eccentric love dramedy (drama-comedy) whisks you away to London, Delhi, Kolkata, Punjab, and even San Francisco.
For the most part, the film depicts its lead characters coping with modern-day commitment concerns as they travel and live apart for most of the film.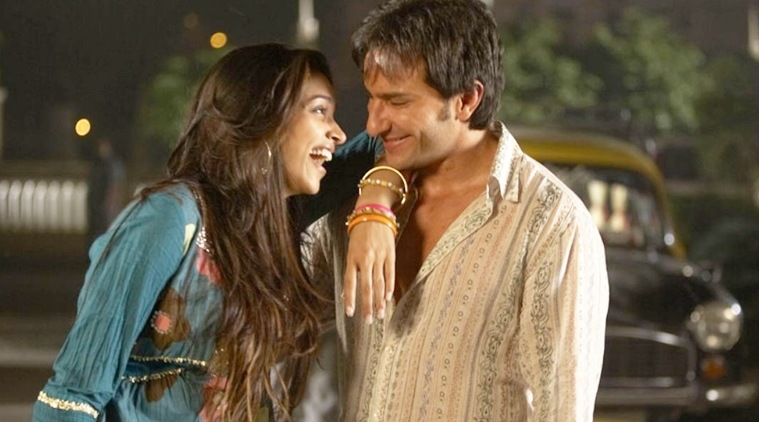 It also contains a flashback storyline that transports you to Punjabi villages, the Purani Dilli streets, and a glimpse of Kolkata.
The modern-day characters fall in love in London, but they part up amicably when their occupations take precedence over everything else.
Although one moves to Delhi and the other to San Francisco, their bond stays as strong as ever! With breathtaking locations in London, attractive streets in Delhi, and the magnificent scenery of the Golden Gate Bridge in San Francisco, this film will undoubtedly inspire you to tour the world.
5. Barfi (2012)
With its excellent performances and gorgeous scenery, this film is like a beautiful song that plays effortlessly and finds a home in your heart! Barfi is a deaf and mute youngster who lives in Darjeeling, a scenic hill station.
Mountains shrouded in mist, lovely scenery, luscious tea estates, emerald green forests, gated walkways, and charming villages all play a part in Barfi's coming-of-age story. The film then moves to Kolkata, where it depicts the city's historical charm as well as the maturing nuances in Barfi's character.
The film depicts Darjeeling as a hill station in the best light imaginable, featuring some of the town's most prominent monuments, including the Clock Tower, Glenary's Cafe, and the Darjeeling Himalayan Railway.
Barfi is a voyage worth taking! It's a feast for the eyes with its breathtaking locales and a delight for the emotions with its moving plot.
6. Highway (2014)
The film 'Highway,' which came out a few years ago, stood out from popular filmmaking for a variety of reasons. Veera and Bhati are known today for their unique plot, ground-breaking performances from the principal actors, and, most importantly, its depictions of Kashmir and Himachal's stunning landscapes.
Beautiful locations such as Pahalgam, Aru Valley, Spiti, and many other hidden jewels in the hilly regions of the north were included in the film.
The highway would not have been the film we know today if it hadn't been for the snow-capped mountains, Pahalgam's hills and valleys, the North's wide highways, the trundling noisy trucks, the ever-flowing icy-cold rivers, and the lush greenery of the beautiful Aru valley, which had its own story to tell.
When was the last time we took a break from the hustle and bustle of city life to sit back, relax, and appreciate the natural beauty that surrounds us? Isn't it a little too long?
It's time to let go of our problems and embark on a voyage across the mountains, a la Highway's "Veera"…
7. Piku (2015)
Piku has an incredible ability to impact people's hearts in ways we didn't realize were possible! It depicted a tumultuous but beautiful father-daughter relationship set against the backdrops of modern, fast-paced Delhi and quaint yet lovely Kolkata.
Rarely has a film checked all the boxes when it comes to a compelling tale, strong acting chemistry, and stunning visuals that gradually blend into the story and become the film's essence.
The road trip from Delhi to Kolkata puts the protagonists' tolerance to the strain, but by the end of the adventure, they have come together. The pit stop in Varanasi not only highlights the spiritual city's calm charm but also provides the ideal setting for a heart-to-heart conversation between the main players.
Finally, the city of Kolkata manages to take our breath away with its old-world colonial elegance, and we can thank Piku, the film, for that!
8. Zindagi Na Milegi Dobara (2011)
This heartwarming attempt by Zoya Akhtar, based on the idea of friendship, is all things great.
Every element of this film rekindles the traveler in you, whether it's the main protagonists' friendship or their eventual road journey through Spain.
The relaxing road trip, exhilarating sky-fall, serene scuba-diving, and the Tomatina festival transport you to another world, making you want to pack your bags as soon as the movie ends.
9. Jagga Jasoos (2017)
The film's protagonist, Jagga, played by Ranbir Kapoor, embarks on a trip to learn more about his father.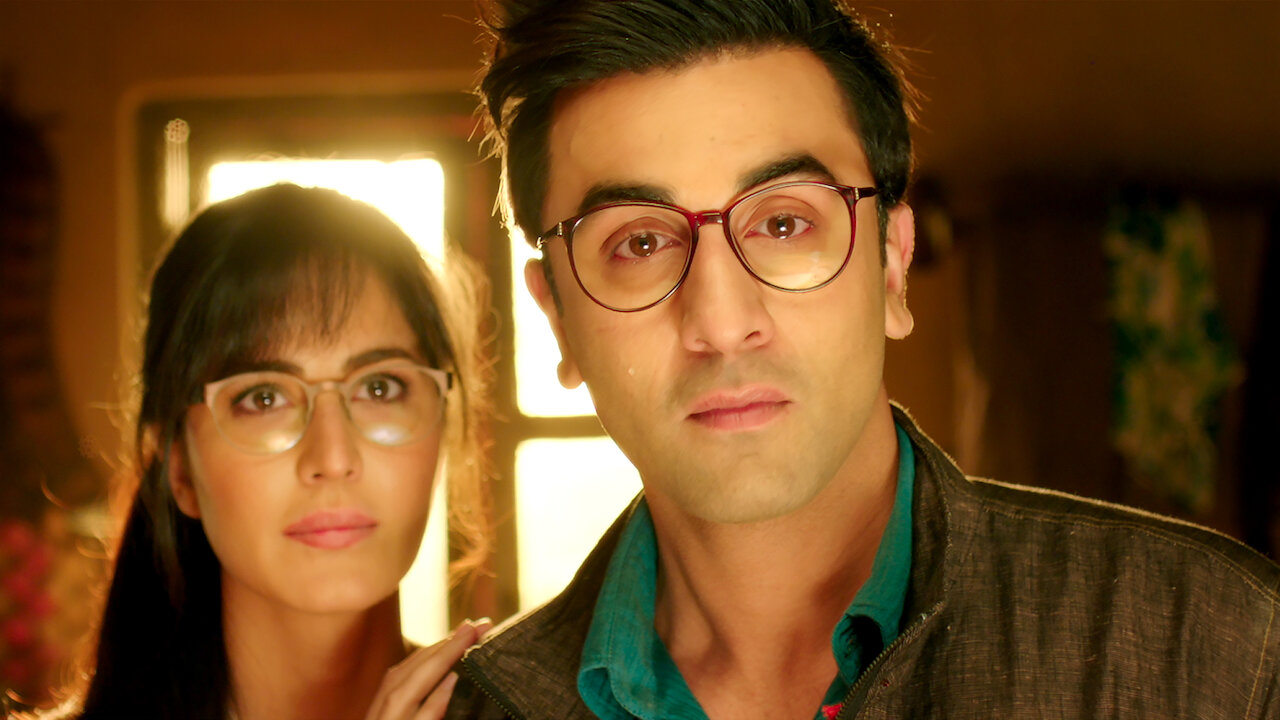 This film, directed by Anurag Kashyap, covers the lesser-known regions of the world, bringing out the travel fanatic in you.
Jagga Jasoos, one of the most distinctive films in recent Bollywood history, is a must-see for moviegoers seeking entertainment.
10. Road Movie (2009)
Vishnu, the primary protagonist, embarks on a journey through Rajasthan to transfer his father's ancient vehicle to a local museum.
This film depicts Rajasthan in its most natural state, urging people from all over the country to visit the state on a road trip.
Also Read: 8 Songs Featuring Imran Khan We Can Vibe To