From handling bold themes around erectile dysfunction and gay love story in the films Shubh Mangal Saavdhan and Shubh Mangal Zyada Saavdhan to portraying toxic masculinity in the midst of all the jokes in Dream Girl, Ayushmann Khurrana can be named as the Boss of taking up issues that are primarily swept under the carpet in our country. 
Demonstrating the physiological and psychological problems of mainly the men, he has come back again with another film around a bold subject– Chandigarh Kare Aashiqui featuring Vaani Kapoor alongside him in the lead role.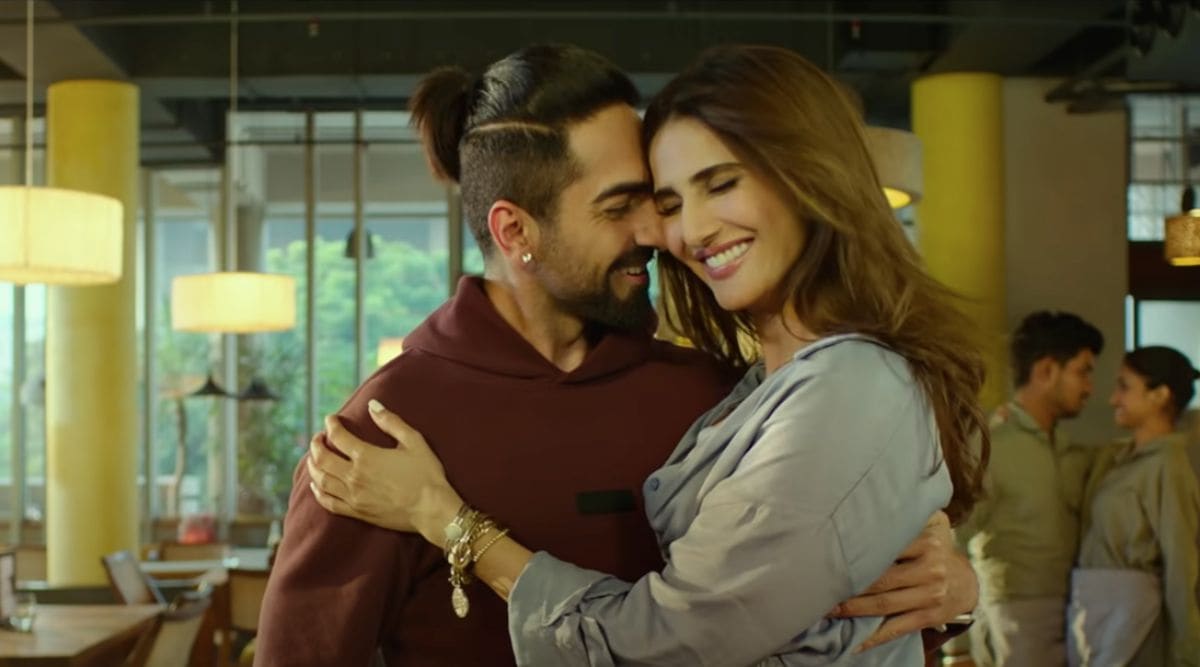 The movie is directed by Abhishek Kapoor who has also directed prominent films like Rock On!! , Kai Po Che and Kedarnath.
With a running time of 116 minutes– Chandigarh Kare Aashiqui is an endeavor to tackle a serious subject whilst cramming it with light-hearted jokes and humor to keep the audience entertained. 
As you may have observed from the trailer itself, the film, set in Chandigarh which is actually the hometown of Khurrana as well, surrounds the story of Manvinder Mannu Manjul, a 30 something bodybuilder, who is training to become the GOAT or Gabru Of All Time.
We see Ayushmann in a new look with– his gigantic muscles and a pony. Mannu has been the central focus of his family due to his poor relationship status but the heartbroken "launda" of Chandigarh has faced betrayal when his only girlfriend left him for a rich man in Canada. 
On top of that, his gym is not doing well until Maanvi (Vaani Kapoor) joins as a Zumba teacher. Suddenly, the gym is filled with males and Maanvi catches the eye of our lead character.
She is the exact opposite of Mannu and the screenplay following their romance build-up exhibits the typical Bollywood story– Mannu can't help but look at her, smiles in her presence and plans to propose to her.
Till now the film shows the personalities of the two where Mannu is a typical guy with his "sakht mard" ego and Maanvi is open-minded and restrained.
After finally coming into a stable relationship, another big yet devastating surprise is waiting for Mannu– Maanvi is a transgender. For people like Mannu, it is hard to accept the reality of it and he goes crazy– or even insane.
The trailer itself portrays that Mannu has to prepare for a venture of amassing in-depth knowledge and information about the topic as he is not willing to let his love go once again.
But this time the main character is carrying the personality of someone who is kept at the negative end of the spectrum when it comes to accepting diverse opinions and people. 
Away from the cliché romances where a boy meets a girl, falls in love, and the two fight one of their families. This time Mannu has to fight himself and the people around him to eventually win or lose Maanvi.  
All in all, the movie will make you think as well as laugh owing to Ayushmann's unbeatable potential of delivering witty and humorous dialogues.
If you already consider yourself as his fan, the movie will be a better treat for you. 
Nevertheless, with Hollywood movies lining up and Tadap released a week before Chandigarh Kare Aashiqui is already facing a battle. So, which one are you preparing to watch this weekend? Do let us know in the comment section.
Also Read: 8 Songs Featuring Imran Khan We Can Vibe To