The trailer of Darlings revealed the story of this movie. At least, on the surface level. Set in a middle-class modest family, Darlings is focused on the life of young couples, Badrunisa and Hamza. 
Alia Bhatt takes the role of Badru, a humble and innocent wife who is so engrossed in her duties as a wife that she often ignores Hamza's mistreatment.
Hamza is the typical drunk guy who loves and adores her wife during the day but beats her up in the intoxication of alcohol during the night.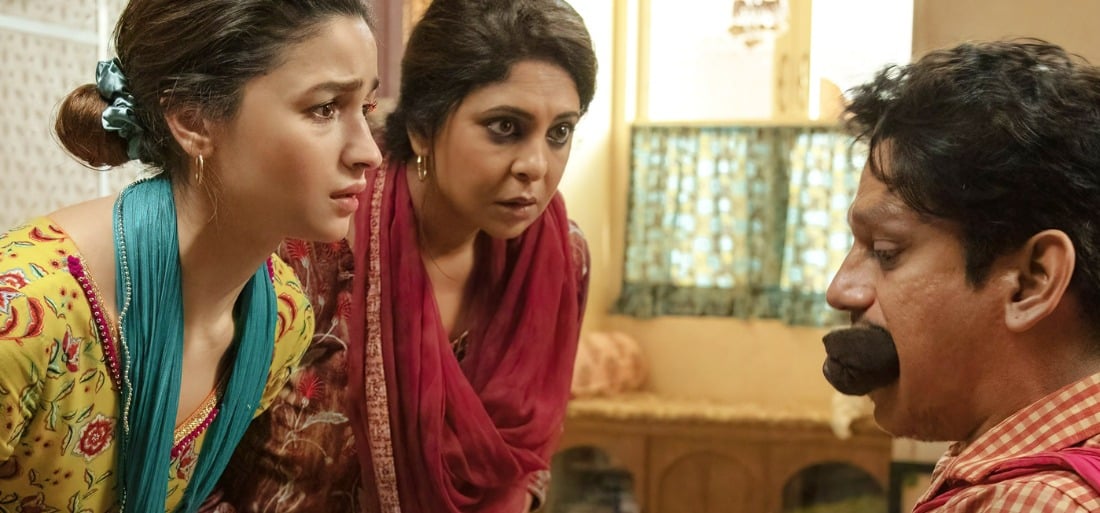 Darlings are set against the backdrop of a society where being in an abusive relationship is more respectable than being a divorcee.
With the same perspective in her mind, Badru digests all that is thrown at her as she wants to be the perfect wife who doesn't become a subject of gossip in her community. 
Hamza beats her up daily but Badru wakes up the next day with a smile and forgives him. She believes as they are in a love marriage it is common to go through such phases and put up with the rage of your partner.
While Hamza knows that his "Darlings" will always end up forgiving him and he has found the perfect place to channel his anger. 
Working as a ticket collector in the Indian Railways, Hamza does not lose his cool when his boss or seniors make him wash the toilet or do other embarrassing work. 
However, as shown in the trailer, the movie was not really a thriller or a dark comedy. Rather it was a simple story showing how a middle-class man intimidates his wife in the name of marriage. It is more of a satire showing the irony of love and marriage through the lens of abuse.
Set in Mumbai, where the richest and the lowest strata of the society co-exist, the mother and daughter duo from the lower middle class find their silver lining through dark clouds when Hamza goes missing.
Badrunissa then decides to take revenge on his husband, a decision that gathered much controversy from the netizens. 
Shefali Shah plays the role of Badru's mother who often reminds her to leave Hamza, but much to her disappointment, her daughter is too deep in love, or so it seems.
Being the directorial debut of Jasmeet K Reen, Darlings touches upon an important subject capturing the issue of domestic violence in a fresh way. Nevertheless, what makes it even more engaging is Shah and Bhatt's performance. 
The mother-daughter camaraderie is remarkable- in both the humourous and heart-wrenching scenes as the two slowly slip into their roles and bring out perfect chemistry.
Even after going through hell, the two women manage to bring their own heaven. In spite of being a victim of the men around them, they do not once act like a victim but decide to take the stage from them and have it their own way.
Aside from the heartfelt characters, Gulzar's lyrics and Vishal Bhardwaj's music also make it beautiful. 
However, most of the room is captured inside a room setting a monotonous pattern. It appears to be a short film that was prolonged due to the characters. It may appear to be forced or slow-paced. 
When it comes to twists, the film falls short unable to consistently work it through film. The climax is underwhelming with dialogues that look staged and lack a natural tone.
Several other subjects like intimidation, patriarchy, physical abuse, and toxic masculinity are focused on in this movie making it an important watch backed with a remarkable cast and a good story to keep you engaged.
Also Read: Good Luck Jerry Review: Janhvi Kapoor Is A Perfect Fit For This Entertaining Movie