It's no easy task to appropriately place a film in its historical context while also contextualizing it within the contemporary socio-political landscape, but Judas and the Black Messiah (2021) succeeds at both. It achieves the ideal combination of realism and cinematic effects, resulting in a gritty plot that is bolstered by outstanding performances.
Shaka King directed the film, which is currently streaming on Amazon Prime Video. It follows the confrontation between Fred Hampton, a key member of the Black Panther Party, and William O'Neal, an FBI informant. However, this conflict is not restricted to two persons; it has a much broader scope because it is also a clash between two sets of ethics – humanitarian and legal.
The metaphor here is strong: Fred Hampton, with his superb oratory and compassionate leadership, was a tireless antiracist crusader. This is a man who brought the system's inherent racism to its knees, transforming the lives of many of those who were harmed by it. To his people, he was the messiah.
Perhaps his story hasn't lasted as long as Nelson Mandela's. He was, nonetheless, extraordinary in his own right. It's a difficult but vital task to do justice to the story of a guy who opposed institutional injustice, and that may be the goal of this film. It's quite moving. 
This messiah's Judas is way more unsure of his betrayal than his religious counterpart. William O'Neal (played by Lakeith Stanfield) understands the depth of what he is doing; he often comes close to forsaking this action. But William has been tasked to infiltrate Hampton's party, to slither in, unsuspected, and pry out pieces of information for the FBI so that it can take Hampton down.
The film's plot revolves around whether he succeeds in doing so or not. However, watching this process unfold is traumatic in and of itself, especially because it is carried out with such brutal honesty.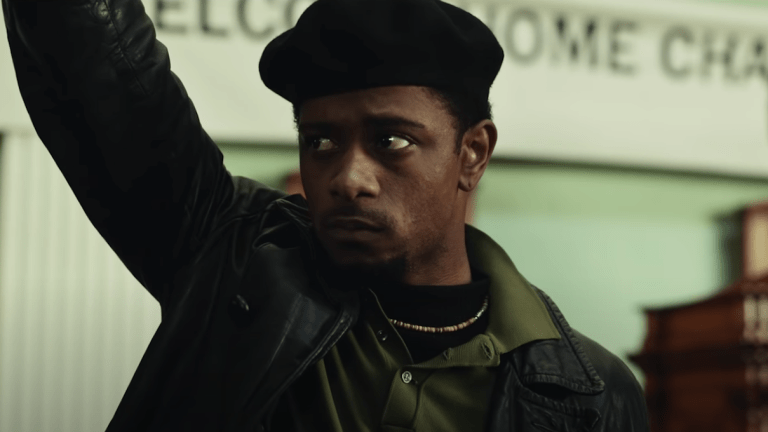 You know, betrayal isn't an easy thing to process – not when it's happening in front of your eyes, and especially not when you're the one who's being betrayed. Human society is built on the notion that people will form bonds with one another, and the possibility that these bonds will be shattered by those we trust the most is unsettling. But isn't that the thing with betrayal? Those that betrayed your trust had to earn it in the first place.
The biblical analogy in the title is fitting because O'Neal was a trusted confidant whose ultimate objective was a betrayal. Judas is likely the most essential supporting character in the Gospels, even though he isn't as well-developed as Jesus in the Bible. 
Judas, on the other hand, is technically the lead, which wouldn't be a problem if director Shaka King and Will Berson's writing had made him as engaging as Hampton. Instead, much of the film is devoted to one-note exchanges between him and the FBI agent who is threatening him with jail time.
In the PBS documentary "Eyes On the Prize 2," O'Neal says he trusted Mitchell and even saw him as a role model in the recreation that starts the movie. In the sequences between Plemons and Stanfield, little of that comes across, though there are hints that the film may extend this tense connection.
A scene in which Mitchell invites O'Neal to his house and serves him the fine Scotch had the potential to explore how an act of implicit White civility might foster confidence; however, the moment concludes with some clumsy discussion about money.
Of course, in the film, this treachery has a far greater consequence; when you damage a political leader's life, you don't simply affect him. You have an impact on everyone who supports his cause. The stakes are raised in this picture, which places incredibly believable individuals at a fork in the path.
I won't claim that I found the story relevant because this is a historical battle with which I am unfamiliar. But, at the same time, the agony it conveys is universal — the prospect that the rescuer may not be rescued himself, I believe, troubles us all. However, the layers of angst that this film adds to that are magnificent, thanks to its photography and soundtrack.
The film won the Oscar for best original song for "Fight for You," which is unsurprising. Although Kaluuya won Best Supporting Actor for his outstanding performance, I believe Stanfield's performance had an eerie element to it.
But, I think, Stanfield portrayed a character who was morally ambiguous. O'Neal's character is both enslaved by his surroundings and responsible for his morality and political identity. The film serves as a stark reminder that the antagonists in our stories are frequently neither good nor bad.
They often deserve to be understood because of their complete powerlessness. Evil villains make it easier for us to despise them. Unfortunately, in the real world, the villains are helpless. They are held captive by their indecisive thinking. And the greatest of all the evils is indecision.
Also Read: If You Like the Movie 'Parasite,' Here Are Some Lesser-Known Observations On It That You Might Enjoy

To All the Boys Vs The Kissing Booth– Which Netflix Rom-Com Is Better? Let's Find Out!