Since the early 1920s, automobiles have been a symbol of wealth and status. Only the wealthy could afford vehicles when they initially became available to the general population. Automobiles were uncommon back then, and those who drove them were thought to be the wealthiest people in town.
Even though much has changed in the last century with cars, there is still a sense of prosperity and status associated with them. The luxury car market, which is defined as a vehicle that goes above and beyond the fundamentals, is incredible.
Luxury automobiles are often associated with the wealthy and famous, although this is not always the case. If you've always wanted to drive a Beamer or a Porsche about town but thought it was beyond your price range, think again. Purchasing a pre-owned luxury vehicle might be a game-changer.
Here are five luxurious cars that you can afford:
1. 2002 Maserati Spyder
Maserati's ten-year hiatus from the US market came to an end with the 2002 Spyder. Since its introduction in the United States, the two-seat convertible roadster has maintained its power status, but its price has dropped dramatically.
A used 2002 Maserati Spyder can readily be found for under $20,000.
Maserati, as a well-known Italian brand, added touches of Italian flair to the Spyder, such as exquisite leather and a sleek design. The fully motorized soft top is concealed by a hardcover, contributing to the car's elegant appearance.
Inside, you'll find a premium cockpit with top-of-the-line interior leather upholstery in ten different colors.
It's worth noting that Maserati only produced a few hundred Spyders. If you can find one, they're a great luxury vehicle at a reasonable price.
2. 2005 Jaguar S – Type R
To us, it's an undeniable fact that all modern Jaguars look fantastic. The S-Type is a notchback executive saloon that debuted at the 1998 Birmingham Motor Show.
From 1999 until 2008, the vehicle was built. Jaguar's 1963-68 S-Type nameplate was reintroduced with the S-Type.
The 2005 model automobile had a facelift, and you may get one for a reasonable price starting this year. The Type 4.2 Supercharged V8 in the 2002 S-Type was praised for making it the world's quickest road production saloon car at the time.
The 2005 model included reworked front and back aprons, a new aluminum hood, and a new 2.7-liter V6 diesel engine.
3. Porsche Boxster
The Boxster, another fun-filled convertible on our list, can be obtained second-hand for roughly £5,000, which is a bargain.
Not only do you get to keep a pair of Porsche keys in your pocket, but you also get to drive a stunning convertible that, as the can industry puts it, "puts the pleasure back in driving."
What better way to appear wealthy than to purchase a convertible automobile with a gleaming Porsche badge?
To the untrained eye, a Porsche is a Porsche. You may own a 2005-2006 987-generation Porsche Boxster with little miles and be considered a Porsche owner like any other by yourself and many others.
4. Rolls Royce Silver Spirit
It may seem unlikely that you could be practically broke and still possess a Rolls-Royce, but it is possible. From 1980 through 1999, Rolls-Royce produced the Silver Spirit, an attractive full-size luxury vehicle.
At the same time, the Silver Spur, a long-wheelbase variant of the automobile, was introduced, and it was the first to include the retractable Spirit of Ecstasy hood ornament.
Between 1980 and 1989, the first generation Silver Spirit, known as the Mark I, was produced. The engine was a 6.75-liter L410 V8 with a THM 300 3-speed automated transmission.
Even today, it's a car that radiates class, and you can obtain one for a reasonable price. We've spotted several '80s models for under $20,000, including a black '82 with only 72,000 miles on Car Gurus for $9,900.
5. 2000 BMW M5
The BMW M5 is a sports sedan that is part of BMW's 5 Series executive automobile line. The first M5 was hand-built in 1985 and included a tuned-up M1 engine, making it the quickest production sedan on the market at the time.
These automobiles are still manufactured today, although with a different design approach.
The E39 M5 is a product of the third generation, which ran from 1998 to 2003. It possessed a 394 horsepower S62 V8 engine and a Getrag type D 6-speed manual transmission, giving it a substantial power boost.
Most BMWs of this make and model cost upwards of $30,000, but there are a few on AutoTrader for under $20,000, and even less if higher mileage isn't a concern.
6. Vaydor G35
On the surface, the Vaydor G35 appears to be too wonderful to be true. The Vaydor G35 is an Infiniti G35 with the Vaydor body package installed.
While the Vaydor kit will have heads turning, the Infiniti G35's dependability is what makes it such a good buy. A 280-horsepower V6 engine, rear-wheel drive, and an available six-speed close-ratio manual transmission are among the appealing characteristics.
The Vaydor G35 is a one-of-a-kind beauty. The Joker drove a bubblegum pink Vayder G35 in Suicide Squad; thus, it's a true movie star automobile.
Purchasing the Infiniti G35 and the package separately is unquestionably the most cost-effective option.
7. 2007 Nissan 350Z
The Nissan 350Z (or Nissan Fairlady Z in Japan) is a fast two-seater sports car that was produced as a coupe from 2002 to 2009 and as a roadster from 2004 to 2009. Nissan's Z-car range is now in its fifth generation.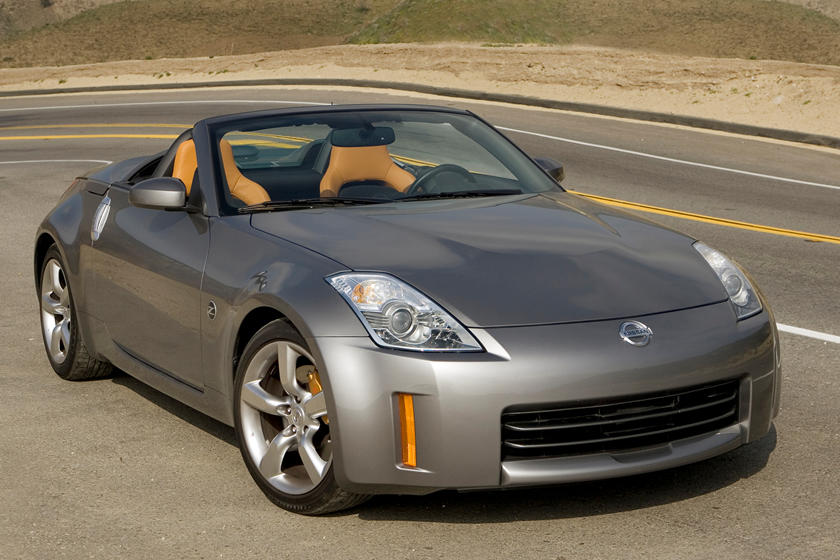 The VQ35DE V6 engine in the 2007 350Z was replaced with a VQ35HR V6 that produced 306 horsepower with an SAE-certified power benchmark. At 7500 rpm, it reaches its redline.
The Nissan 350Z is a real head-turner, and you can acquire a 2007 model that appears a lot younger than it is. On Car Gurus and similar sites, there are a number of 350Zs for sale.
8. Tesla Model S
It's hard to believe that the Model S could have ended up on one of our lists, given how tough it was to obtain when it first came out. Nonetheless, here it is.
Used Teslas turn out to be quite affordable. And, even though they are the "future of luxury," they will depreciate just like every other luxury alternative.
We were able to locate one for roughly $27,000. Roll up in it and tell folks you work with computers, and no one on the planet will doubt you're a computer genius.
Don't want to give up your petrol for the time being? We can't say we blame you. We enjoy doing things the old-fashioned way as well, which is why we can personally advocate purchasing a Chevrolet Corvette.
9. Chevrolet Corvette
We could have included a Dodge Viper or a current Corvette because they're both reasonably priced for what they are, but we couldn't leave out this stunning 1960 Corvette.
True, it's getting more expensive, but it's still in the realm of "rich looking" without truly being "rich." The Corvette has been around since 1953, and we've seen a lot of different body types and designs in that time.
This, on the other hand, is a C1 first-generation Corvette, which was released in 1953 and went out of production in 1962. It's a classic version of an already classic vehicle.
It will be recognized by auto fans wherever you go, and it will turn even the most inexperienced car enthusiasts' heads.
10. 2002 Bentley Arnage
Bentley makes a second appearance on a list that you would not have expected them to feature on at all, this time with the Arnage. From 1998 to 2009, the Arnage was a massive luxury vehicle that was produced. This was one of two cars that marked the company's first new designs since 1980 at the time. The Silver Seraph was the other.
A new engine was also installed in the Arnage. Instead of the traditional 6.75-liter V8, a 4.4-liter twin-turbo BMW V8 was installed. With 354 horsepower, it was the world's fastest and most powerful four-door saloon for a limited period of time.
Also Checkout: Great Movies That Did Not Perform Well At The Box Office