Binge-watching your favourite shows can be a relaxing way to unwind after a busy day. If you're an entrepreneur, you'll never run out of documentaries to watch, but there's one thing you should know about must-see' business films and what you can learn from them. These are the top 10 most entertaining Entrepreneur Documentaries that you'll actually learn something from, whether you're trying to unwind and decompress or raise your motivation and expand your business knowledge.
1. Warren Buffet (2017)
Warren Buffett is a one-of-a-kind billionaire, with a net worth of over $60 billion. Becoming Warren Buffett is a wealth of invaluable information from which we can learn key life lessons from the humble millionaire, his family, and his peers.
Berkshire Hathaway is still managed by Warren Buffett, who lives in a modest home in Omaha and drives himself to work every morning. This film follows Buffett's rise to become one of the world's wealthiest and most revered men. The video takes us on a tour through the life of the famed investor, showing how he began as an ambitious, numbers-obsessed child from Nebraska and rose to become one of the world's wealthiest and most revered men.
2. Something Ventured (2016)
With firms like Intel, Apple, Gentech, and many others, this documentary about successful entrepreneurs tells the tale of individuals who developed a finance industry with advanced modern technology in the last 50 years.
Why should entrepreneurs watch Something Ventured? It provides quick and entertaining history lessons on California businesses, with a concentration on venture capitalists in the Bay Area and Silicon Valleys.
3. Burt's Buzz (2013)
Burt Shavitz, a reclusive beekeeper who grudgingly became one of the world's most known brand identities, is the subject of this hilarious, honest, and engaging documentary. Burt's Buzz pays homage to Burt's Bees creator Shavitz.
He is a quiet curmudgeon who despises middle-class conveniences, values isolation, and avoids practically all forms of technology. Shavitz's tumultuous relationship with co-founder Roxanne Quimby, who finally bought Shavitz out of the company, is also revealed to viewers. Quimby eventually sold the company to Clorox for a whopping $177 million.
4. Generation Startups (2016)
Generation Startup transports viewers to the front lines of American entrepreneurship, revealing the hardships and achievements of six recent high school graduates who risk everything to create businesses in Detroit. It was shot over the course of a year and includes candid, on-the-ground investigations into what it takes to build a firm.
Why should entrepreneurs watch Generation Startups? Because it teaches us how to fail and redefine success.
5. Betting On Zero (2017)
Investigate Herbalife, the international nutritional products corporation accused of being a massive pyramid scheme. Following billionaire hedge fund tycoon Bill Ackman and other former Herbalife distributors when Ackman makes a short investment in Herbalife, which is essentially a billion-dollar bet that the firm will soon collapse, Betting on Zero follows them.
The film also follows Ackman's feuds with Herbalife CEO Michael O. Johnson and investor Carl Icahn, as well as the fallout from the short and Herbalife's business methods.
Herbalife and other multi level marketing (MLM) companies have long been the focus of alternating popularity and concern. We get a bird's-eye view of the power of message and how it can whip supporters into a frenzy, even if the corporation leaves a slew of disgruntled former employees in its wake by focusing on Herbalife.
6. Jiro Dreams Of Sushi (2011)
A documentary on the 85-year-old dish maestro Jiro Ono's financial success, his well-known Japanese capital dining establishment, and his relationship with his son and ultimate heir, Yoshikazu. He prioritises excellence above achieving success.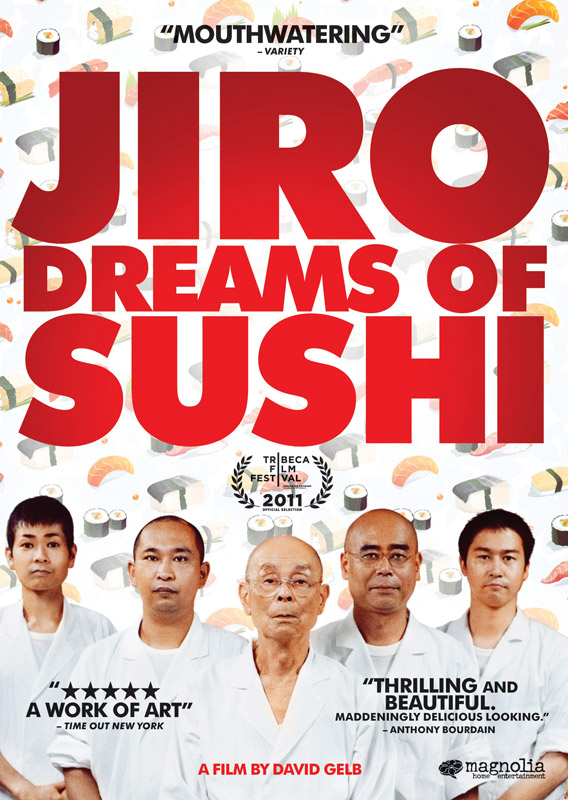 Why should business owners watch Jiro Dreams Of Sushi? This portrayal of a man in pursuit of perfection may be a demeaning and life-changing experience, the worth of being a perfectionist, according to the film.
7. Tony Robbins : I Am Not your Guru (2016)
Get a behind-the-scenes peek at Tony Robbins as he prepares for his annual Date with Destiny lecture in Boca Raton, Florida, which drew over 4,500 attendees. Tony Robbins: I Am Not Your Guru documents both the enormous effort that went into creating this live seminar as well as the participants' life-changing transformations as they occurred in real time.
Tony Robbins, an internationally known life coach, motivational speaker, practical psychologist, business strategist, and whatever else you want to name him, is the subject of this documentary film. During his yearly seminar, the film depicts the meticulous planning and comprehensive postmortems that accompany each daily session.
8. Elon Musk ; The Real Life Iron Man ( 2018)
This leads to the rise of Elon Musk, a man who is reshaping the way we think about transportation technology through electric automobiles, the Hyperloop, and new ideas for enduring computing and populating Mars.
Why should entrepreneurs see Elon Musk: The Real Iron Man? The film promotes perseverance, doing things differently in a higher way, and entrepreneurship, which is not taught in school.
9. Freakonomics (2010)
The documentary film Freakonomics, based on the bestselling book by Stephen Levitt and Stephen Dubner, explores how science and economics can help explain our everyday behaviour. The film alternates between thoughtful study and fun humour. The film is divided into four sections, each directed by a different director.
A programme examining the ramifications of baby names features Morgan Spurlock's humorously caustic manner. Alex Gibney investigates the world of sumo wrestling, which is rife with corruption. Eugene Jarecki investigates the causes of the remarkable decline in crime rates in the 1990s and proposes a startling and divisive explanation. Rachel Grady and Heidi Ewing, on the other hand, consider the possibility of providing cash incentives to students who improve their scores.
10. Inside Bill's Brain : Decoding Bill Gates (2019)
Bill Gates' life as he pursues solutions and strategies to some of the world's most advanced concerns is chronicled in this documentary about successful businesses. Gates is attempting to respond to the inane, off-topic, juvenile questions and "unbroken questioning."
Why Should Entrepreneurs Care About Inside? Bill Gates' Brain: How to Decode Bill Gates: The three part mini parts are torturous and go into Bill Gates' tactics.
The best filmmakers through the above mentioned films persuade the audience to want to learn more about the subject. You've succeeded in getting your point across if you can pull at their heartstrings and make them feel genuine emotion and passion for the issue. What are your views regarding these amazing entrepreneur Documentaries?
Also Checkout: 10 Best Sports Biopics to watch