Single All The Way is streaming on Netflix. It is the first gay holiday romcom released by Netflix. So, if you are looking for a feel-good movie, Single All The Way is all the way here for you.
| | |
| --- | --- |
| Director | Michael Mayer |
| Writer | Chad Hodge |
| Producer | Joel S. Rice |
| Cast | Michael Urie, Philemon Chambers, Luke Macfarlane, Barry Bostwick, Jennifer Coolidge, Kathy Najimy. |
While the plot of the film appears to be taken out of a Wattpad novel, nevertheless, just like those novels, it won't disappoint you.
Every year we were offered different tales of stories like Dash and Lily, Holidate, Love Hard, Just Another Christmas, etc. but this time Netflix has for us a gay story. 
To represent the LGBTQ+ community in the introductory love story of the season, director Michael Mayer and writer Chad Hodge revolved the plot around the burden of coming home alone to people who are far from being single.
Peter, played by Michael Urie, is tired of becoming the center of interest and mockery by his family members for his perpetually single status.
On top of that, his past relationship which was blossoming like a raw flower with another man– who was going to be with him during the festive season– turns out to be married to a woman.
So, to dodge the forthcoming quips this year he decides to take his best friend Nick, played by Philemon Chambers, and persuades him to act as his boyfriend.
However, he is oblivious to the fact that this clever plan will end up in him getting caught up in his own disturbed state of romance.
Nick is already cherished by the entire family and the matchmaking potential of the members concludes that they are a great pair. And obviously, when two people have the spark everyone apart from them can recognize it easily.
A significant advantage of Single All The Way is its normalcy in treating gay characters. There are no outbursts and mysterious secrets; Peter and Nick are what they are portrayed to be.
You won't find yourself contemplating past issues and traumas affecting the relationship between the two friends and so the only fun and complex part of the film is their denial or rather lack of realization of their emotions for each other. 
The steady representation of just two humans who do not have luck with relationships and are actually unaware of their own attraction is a subtle attempt to deliver something different but the plot is still pretty much predictable.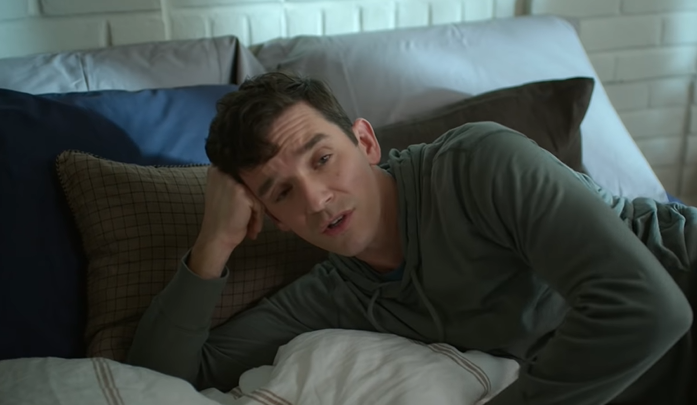 At times it might even appear that both of them do not have that smooth chemistry and it might be even perplexing that the absence of compatibility puts up a question of how the two managed to be best friends.
The Christmas vibes and comedic dialogues delivered throughout the film will still leave you smiling and enjoying the story.
So, you are in for a humorous and enjoyable ride with a lot of invasion by Peter's sisters and nieces to help the two to realize their actual feelings.
Coming to the characters, Michael and Philemon, being gay actors enhanced their personalities even more. 
Jennifer Coolidge, your celebrity from Legally Blonde, stole the show several times when she took up the role of Aunt Sandy.
Apart from her, the ensemble cast brightened the plot, even more, when we see Jennifer Robertson (from Schitt's Creek and Ginny and Georgia) and Luke Macfarlane from Killjoy.
All in all, with fascinating characters played by unique talents and a plot that is no doubt cliché but never too old when your soul craves all goody-moody watch time – the 101 minutes spent on this film will be an absolute treat.
Also Read: 9 Songs From Bollywood That Make You Think About The Special One!